Markets
Hedge-Fund Chicken Is Trade of the Week
The meek will not inherit the $200,000 hen house modeled after Versailles.
by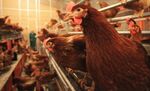 There are, to be sure, hedge fund executives who go about their business quietly and out of the spotlight, never using a public forum to take a victory lap when they win or lick their wounds when they lose.

Memo to this type of hedge-fund executive: We in the financial press don't like you very much. We'd much prefer that you embrace the inner confidence that helped get you where you are today. Trust your instincts and get on with your bad self! If you hired some expensive public-relations experts to try to manage your image, fire them! Your id is the only spokesperson you need. Remember, a lot of those high-priced PR reps are simply former financial journalists whose credit-card bills began to outweigh their salaries, so just skip the middleman or woman and take this pro-bono advice:
Don't be afraid to channel that inner Weird Al so you can rewrite Billy Joel lyrics and sing "Captain Math will get you high tonight, just a little fractal geometry and you'll be smiling," as PDT Partners CEO Peter Muller did this week, landing him in Amanda Gordon's must-read Scene column. Should you try to steal the show from Muller at the same National Museum of Mathematics 1 gala by dressing up in a cape, mask and a superman-style shirt with the Pi symbol emblazoned across the chest? Why of course you should Glen Whitney, former Renaissance Technologies algo guru!  

How about letting the high-flying stock of a specialty pharma roll-up machine swell to almost one-third of your long book?  Whoa, Bill Ackman, now you're getting a little crazy. But hey, you do you, Bill, and don't let us get in the way.

Thanks be to the financial-press gods this week for smiling upon us with tales of people who are putting the "alternative" back into alternative asset management. They set a high performance hurdle for managers who want to top this week in hedge-fund news.

We learned all about the Rev. Emmanuel Lemelson, the priest-slash-hedge-fund-manager who told the Wall Street Journal of his ability to rain hellfire and brimstone upon overpriced stocks.

We caught up with Crispin Odey, the boom-and-bust manager whose flagship fund sank almost 16.8 percent in the first 16 days of October. Odey should serve as a role model for all hedge-fund managers. Follow his lead and don't be afraid to take aggressive positions, and for Pete's sake don't resist the urge to spoil your pet chickens with a $200,000 hen house that's modeled after Versailles! The Fleet Street tabloids will nickname it Cluckingham Palace and love you for it. And that's worth more than any performance fee. It's easy to imagine the type of important discussions taking place in newsrooms about this story: 
Editor: I think we need to get the chicken coop in the headline.
Reporter: (Sigh.) You realize I'm a Knight-Bagehot fellow, right?
Editor: So we're in agreement, the chicken coop goes in the headline!
Finally, we learned a lot about those (alleged) nefarious cretins lurking in the corners of our electronic markets looking to chip away at honest alpha by "spoofing." No, we're not talking about Muller's spoof of Billy Joel, but rather the practice of sending orders into the market to create a false impression of demand to buy or sell and then canceling them before they can be filled. Michael Coscia of Panther Trading is on trial for this in Chicago, and two other suspected spoofers are waiting on deck.  
Coscia denied accusations that his canceled trades in 2011 were an attempt to sway prices in the direction he wanted and said he didn't intend to trick anyone or conceal anything with his trading. We also heard from a Citadel executive who said the firm lost money, and here's a snippet from the Bloomberg coverage that stands out:
While witnesses testified that the size of those orders were unusually large, the size of at least one of their losses was decidedly small. Anand Twells, who monitors Citadel's automated trading strategies, told jurors his firm lost $480 in a couple of gold futures trades in 2011 when the firm filled a couple of Panther trades.
That's right: $480. No commas or zeros were dropped from that figure. It would be tempting to call that "chicken feed" except that would be an insult to Odey's chickens, who we're guessing rack up a tab that's twice that amount by the time the hen-house happy hour is half over. 
Anyway, hedge funders, when it comes to your trades and your dealings with the press, just follow this one piece of advice: Don't be a chicken. 
Not making that up. That's a real museum.
To contact the author of this story:
Michael P Regan at mregan12@bloomberg.net
To contact the editor responsible for this story:
Daniel Niemi at dniemi1@bloomberg.net
Before it's here, it's on the Bloomberg Terminal.
LEARN MORE