Tech
Samsung Buyback Is No Solution to Apple Envy
The smartphone maker plans to spend $10 billion on its own stock. Shareholders shouldn't be cheering.
by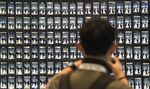 What could you do with 11.3 trillion won ($10 billion) in the electronics industry? Buy all the equity in Lenovo, or NEC, or flat screen-maker LG Display. Fund nearly a year's worth of Apple's capital spending. Or, like Samsung Electronics, dump it on a load of your own stock.
 Shareholders rarely turn their noses up at a cash payout, but they should. Buybacks and special dividends, unless they follow a period of one-off outperformance, are an admission by a company's management that it's out of good ideas. It's no big surprise then that the sugar high from Samsung's announcement Thursday -- alongside third-quarter results that missed analyst estimates -- is already ebbing. The stock rose as much as 6.4 percent in the first hour of trade before closing up just 1.3 percent.
Samsung sees the need to placate investors because of its singular failure to challenge Apple's dominance of the smartphone market. The Korean company still has the largest slice of global handset shipments:
 But as a passel of challengers such as Xiaomi, Huawei and Oppo snaps at its heels at the bottom end of the market, Samsung's rollout of glitzy features such as curved screens and wireless charging pads has failed to loosen Apple's lock on the more profitable top end: 

An inclination to abandon the fight would be understandable. Samsung has outspent Apple for years without making any discernible impact on Cupertino's position in the market. 

Instead of accepting the low margins on its smartphones as a weakness, Samsung should embrace them as a strength. After all, it's not the company's only line of business. In the same way Google is essentially an advertising company that owns a well-known search engine and Tencent is a gaming platform with a popular chat client, Samsung increasingly looks like a top-notch computer memory business with a big-selling but less-profitable handset manufacturer:

Those huge volumes passing through Samsung's handset division are a great proving ground and showcase for the business at which the company really excels.

Looking at a mobile phone as a box containing a screen, some memory, a processor, a motherboard, a power source and an input device, you can even see where Samsung is missing out. Put aside the low-margin display and battery industries and the motherboard and input work that's best done in-house, and the one area where it's still underweight is processors. It's investing heavily in chips for use in Samsung phones but still trails market leaders Qualcomm and Mediatek in building ones for use in third-party mobile devices.

After losing almost half its market value over the past 12 months amid a slowdown in emerging markets, Taiwan's Mediatek is valued at just $12 billion at a time when it's poised to seize share from Qualcomm in higher-end Chinese smartphones. Now that would be a great buy for an electronics company with $10 billion-odd to spend.
To contact the author of this story:
David Fickling at dfickling@bloomberg.net
To contact the editor responsible for this story:
Matthew Brooker at mbrooker1@bloomberg.net
Before it's here, it's on the Bloomberg Terminal.
LEARN MORE