Editorial Board
Keep Turkey Democratic
A new coalition government could keep the country from backsliding.
by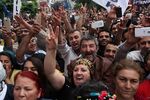 Turkey may never have held a more important election than the one that's coming on Sunday. Voters may decide whether a country with strong economic and security ties to the West slides into the sectarian strife and authoritarian politics of the Middle East. 
Already, today's Turkey has come to resemble that of the 1990s, when a war with militants from the country's large Kurdish minority raged in the east; a murky "deep state" of security forces, ultranationalists and criminals delivered gangland-style justice; neighboring countries, from Greece to Syria, were hostile; and the economy was stunted. 
This is a needless tragedy for a country of such great promise. President Recep Tayyip Erdogan came to dominate Turkish politics in large part because he ended the political and economic instability of the 1990s, attracting investment and growth in the decade that followed. The past three years, however, have seen that progress unravel.
Now Erdogan is asking voters to let him reimpose order by giving his party an overwhelming majority. Yet it is precisely the president's determination to gather all levers of power into his own hands that has led to Turkey's disorder. In the last election, just four months ago, Erdogan's Justice and Development Party (AKP) failed to win enough votes to rule outright. To avoid putting together a coalition government, the president arranged for the Nov. 1 vote and meanwhile galvanized nationalist sentiment against the country's large Kurdish minority, whose Peoples' Democratic Party (HDP) robbed the AKP of its majority in June. 
Now, the Turkish state is again fighting a war against armed insurgents from the Kurdistan Workers' Party (PKK), killing hundreds. Turkey's air force is bombing PKK bases in northern Iraq and military police are cracking down hard on Kurdish protests across the country's east. Erdogan should halt the bombing and restart the peace process he did so much to pursue with the PKK in previous years. 
QuickTake Turkey's Continental Divide
Turkey is becoming dangerously polarized. Even the Oct. 10 attack on a peace march in the capital, when suicide bombers including a known Islamic State recruiter killed 102 people, has failed to unify the country in grief. Soccer fans in the conservative city of Konya even whistled and booed through a minute of silence for the dead, most of whom were Kurds and secularists whom they now see as enemies. The government's continued outlandish claim that the attack was carried out by the PKK, Kurds in northern Syria and the Syrian intelligence agency in a collective conspiracy with Islamic State has left the nation divided even on whom to blame for the attack. 
The PKK are terrorists. But arresting Kurdish political figures as though they are, too, is wrong. Kurds in eastern cities have been moved to throw up barricades against the military. At the same time, Turkey's support for radical Islamists in Syria and apparent indifference to Islamic State are sucking the country into the sectarian mire of the Middle East. 
It's not too late to change course. The best outcome for Sunday's vote would be for Turks to reject ethnic and religious hatred by electing, as they did in June, members of both Erdogan's party and the Kurdish minority party. With a coalition government in power, Turkey would no longer allow one man to have political control over prosecutors, the courts and other institutions whose independence is essential to democracy. It might even win back the pluralism and tolerance of dissent for which Erdogan himself once seemed to stand. 
--Editors: Marc Champion, Mary Duenwald.
To contact the senior editor responsible for Bloomberg View's editorials: David Shipley at davidshipley@bloomberg.net .
Before it's here, it's on the Bloomberg Terminal.
LEARN MORE