Finance
In Case of Brexit, Luxembourg Is Open for Business
Luxembourg's nimble government has looked to attract financial services.
by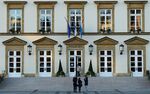 The Mayor of London has argued that European Union membership has never been worth less to Britain and recent polls are showing an evenly split British public on a withdrawal from the EU. With the odds of a Brexit increasing lately, not least on betting sites, it is worth considering how this would affect European financial centers.
QuickTake Will Britain Leave the EU?
A Brexit would potentially mean that the right to distribute and sell financial products in the European Union for firms regulated in the U.K. – so-called passporting -- would be lost. The EU may enact legislation to force all euro transactions, including derivatives, to be settled in a euro zone country where the European Central Bank has daily monitoring powers. An ECB attempt to impose this was rebuffed by the European Court of Justice earlier this year, but it's possible the European Commission would be more sympathetic if Britain were to leave. 
Some of the City of London's finance specialist jobs would move to the U.S., while others might relocate to European capitals. The dominance of U.S. investment banks would likely be reinforced and the economies of scale in London's financial industry reduced. The City would of course reinvent itself. It would become the leading offshore financial center in Europe, possibly to the detriment of Zurich and Geneva. But it would need a new hub to partner with, a sort of gateway to EU financial markets.
The two leading onshore candidates for this role are Frankfurt and Luxembourg. Both are small, with populations well below one million residents. Both are similarly classed as international financial centers, benefiting from the presence of EU institutions (the ECB is in Frankfurt, while Luxembourg is home to the European Investment Bank and European Court of Justice). Both have access, within a commutable range, to a population pool of about 10 million people. Frankfurt has more diverse financial offerings, but is largely focused on Germany; while Luxembourg is an international niche leader, notably in fund distribution (there are 4,000 funds based there). According to the International Monetary Fund, assets under management in Luxembourg-based funds have doubled since 2008 to 3.5 trillion euros ($3.8 trillion), making it the world's second largest center for funds after the U.S.

While both centers would ultimately benefit from a Brexit, Luxembourg would be the likely winner. Like Singapore and Hong Kong, Luxembourg  is a small, stable, multicultural state with a solid institutional framework. Its workforce, which incorporates a large, educated foreign component, is multilingual, typically speaking French, German and English. The financial infrastructure is strong with German, French and Anglo-Saxon influence.  Luxembourg is home to 40 percent of Europe's so-called tier IV data centers -- the most robust and secure type of storage favored by financial companies. Clearstream, one of the largest settlement providers, and which is German-owned, is also based in Luxembourg.
In recent years, whole new office neighborhoods have sprouted up, with the financial center relocating to the new Kirchberg district. What, not long ago, were fields along the way to the airport are now rows of ultra-modern office buildings. Vacancy rates have been very low, about five percent, despite rocketing levels of construction. 
But the key advantage of Luxembourg lies elsewhere. Culturally, it is a blend of flexibility, competence and respect for order. Its government has proved to be highly focused and nimble. Indeed, in the space of one generation, Luxembourg has evolved seamlessly from a power in iron and steel, to a television and media hub and most recently to an emerging financial center.
Critics will deride Luxembourg's success as tax-based. Tax rulings played a role in its rise in financial services, just as they did when Luxembourg disrupted the European television industry by liberalizing rules for television advertising well ahead of Belgium and France. But many if not all European countries have provided tax holidays and other inducements for investors. In short, Luxembourg has a business-friendly government typical of smaller, open countries where innovation and efficiency provide a competitive advantage.
A good example of this is the country's approach to double-taxation treaties. All countries have them, but Luxembourg has been able to build a particularly efficient network of such treaties. Successive governments focused on the issue; the result  is 75 connecting conventions, some of which provide unique benefits such as covering asset classes ignored by standard treaties.
Lastly, while an emergent Frankfurt as the financial center of Europe would run the risk of German dominance, the rise of Luxembourg, while attracting some jealousy, would not be perceived as threatening. Already neighboring regions have seen increased tax receipts, lower unemployment and rising property prices as a steadily growing number of commuters converge to work there.
"We are seeing real interest from London-based institutional clients for solutions offered in Luxembourg in case of Brexit," confirms Thierry Lesage, partner and member of the strategy board of Luxembourg largest law firm, Arendt & Medernach. Some interest has already become public: Aberdeen Asset Management announced that in the case of Brexit, Luxembourg would replace London for its European operations, while HSBC and JP Morgan would do the same. Markets dislike uncertainty and the introduction of new European passporting rules have in effect already started the process, with Swiss financial centers as the first victims. Credit Suisse announced in September it will be increasing its operations in Luxembourg to use as its European distribution gateway, while Pictet, Lombard Odier reported similar plans.
Challenges remain. Brexit or not, Luxembourg needs to improve its connective infrastructure and access adjoining regions. It has to preserve good relations with larger neighbors and improve links with national financial centers. In a report measuring business regulations, it has dropped to 61st place, rating highly in cross-border trade but not so well in the categories of providing credit and protecting minority investors. It must find ways to further attract the human capital finance thrives on -- such as providing more capacity in international schools -- and avoid creating artificial barriers (such as a Luxembourgish language requirement for some government positions and in schools). Most importantly, the wealthiest European country per inhabitant, it needs to avoid complacency and remain ambitious in an anemic Europe. 
To contact the author of this story:
Jean-Michel Paul at JPaul@acheroncapital.com
To contact the editor responsible for this story:
Therese Raphael at traphael4@bloomberg.net
Before it's here, it's on the Bloomberg Terminal.
LEARN MORE