Sports
So Is Daniel Murphy a Superstar?
One stellar postseason can mean a huge payday, but buyer beware.
by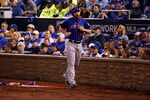 Daniel Murphy of the New York Mets may not have extended his home run streak to a ridiculous seven consecutive post-season games in the team's heartbreaking 14-inning loss to the Kansas City Royals Tuesday night, but that's not going to dim his prospects for a major payday when he becomes a free agent in a couple of weeks. The past shows there is no underestimating the financial value of a monster playoff performance.  
But what does history tell the Mets, and the 29 other teams salivating over Murphy's stellar play, in terms of opening up the vault for a player who has always been good but never a superstar? 
Murphy was named MVP of the National League Championship Series against the Chicago Cubs with his a torrential .529 batting average, four home runs, six runs batted in, and a 1.294 slugging percentage. Throughout the playoffs, Murphy has hit seven homers, one shy of tying the postseason record of eight held by Carlos Beltran, Barry Bonds and Nelson Cruz. 
Heading into the playoffs, Murphy, who earns $8 million this year, was expected to capture a deal worth $10 to $12 million a year over four seasons, which was thought to be too rich for the Mets' blood. The Mets had previously held to their stance that Murphy's postseason performance wouldn't affect negotiations. But CBS Sports' Jon Heyman has now reported that the team is planning to extend a $15.8 million qualifying offer to Murphy -- in short, a one-year deal that he will have one week to accept or enter free agency.
The Mets' ownership is notoriously stingy, thanks to mountains of debt as a result of poor financial decisions, so this could be read two ways: The Mets are willing to buy high on Murphy for one year to see if his postseason performance is just a flash in the pan, or they know that impending free agents basically never accept qualifying offers and they're gunning for the compensatory first-round draft pick they'd receive from the team that eventually signs him.
Murphy's value on the open market is never going to be as high as it is now, so he has little incentive to take a one-year deal when other teams will be willing to lock him up for more years and more dollars. And from Murphy's perspective, cashing in on his inflated worth is exactly what he should be doing. I've long held that the discussion over whether a player "deserves" a lucrative contract based on his performance is meaningless; players are worth whatever teams are willing to pay them. If a team wants to gamble that the Murphy they're signing is the postseason superhuman and not the above-average, All-Star second baseman he was in the last couple of regular seasons, that's their bet to place. 
But from a fan's perspective, I hope it's not my team. Given that I root for the New York Yankees, asking them to show restraint on a sexy name that plays a position they desperately need to fill may be hopeless. Same goes for fans of the Los Angeles Dodgers, who ultimately outspent the Yankees by nearly $100 million this season but fell to the Mets in the decisive game 5 of the National League Division Series, thanks in no small part to Murphy's ownage of the Dodgers' cast of Cy Young pitchers.
An anonymous general manager told the Boston Globe's Nick Cafardo he expects the Dodgers, Yankees and Los Angeles Angels to be players in the Murphy market, which he estimates to be around five years, $75 million. Around $15 million a year for a player who appears to be on an upswing -- he hit a career-high 14 home runs this regular season and made his first All-Star team in 2014, and has certainly benefitted from working with Mets hitting coach Kevin Long -- isn't that high a price for the wealthier teams.
It does, however, run counter to the encouraging new trend in baseball of teams going back to developing homegrown talent -- a strategy on which this Mets team is built. (And indeed, giving up Murphy for a first-round pick falls squarely in line with this approach.) Going into the playoffs, the Mets were tied with the St. Louis Cardinals for having the most homegrown players on their postseason roster: 15 of the 25. The Royals were next with 11. The Yankees, in what was supposed to be a rebuilding year from the start, came in next with 10. 
It's a myth that the Yankees dynasty in the late-'90s was built solely around homegrown talent; yes, the Core Four -- Derek Jeter, Andy Pettitte, Jorge Posada, and Mariano Rivera -- are the iconic faces of those teams, along with Bernie Williams, but the Yankees did also spend on big-name free agents like Paul O'Neill and David Cone. It's not that they didn't spend the money -- they just spent it wisely.
We now live in different times, and even Yankees owner Hal Steinbrenner has managed to somewhat rein in the team's spending. The Dodgers are one of the few teams moving in the opposite direction, opening their wallets wide for a team whose previous owners were on the brink of bankruptcy.
Whoever decides to sign Murphy just needs to make sure they temper their expectations for what they can get out him. He isn't Carlos Beltran, who had one of the greatest postseasons ever in 2004, and went on to sign a seven-year, $119 million contract with the Mets -- well deserved after nearly seven monster regular seasons to start his career, mostly with the Royals. You just hope he doesn't become Pablo Sandoval, the 2012 series hero for the San Francisco Giants who hit a meager .245 while pocketing $17 million from the Boston Red Sox this year. 
Until then, perhaps it's best to just heed Murphy's own words and ride this out: "Tomorrow has enough worry for itself." Let's Go Mets.
To contact the author of this story:
Kavitha A. Davidson at kdavidson19@bloomberg.net
To contact the editor responsible for this story:
Tobin Harshaw at tharshaw@bloomberg.net
Before it's here, it's on the Bloomberg Terminal.
LEARN MORE