Companies
Occidental's Split Personality Pays
Neither major nor minor, it could be a safe port in the oil-market storm.
by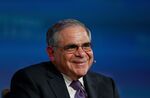 Occidental Petroleum is neither fish nor fowl. In today's oil industry, that's actually a big plus.
Oxy, as it is called, is a mini-major. Producing almost 700,000 barrels of oil equivalent a day and sporting a market capitalization of $57 billion, it is too big to be counted among the many minnows of the exploration and production sector. Moreover, while most of those minnows are homebodies, roughly half of Oxy's output comes from overseas, chiefly the Middle East and North Africa. 
Yet it isn't at the million-barrels-a-day-plus level that defines the big leagues. And Oxy has a sizable chemicals business, setting it apart from the E&P sector, but it's not quite the same as the big refining and petrochemical arms owned by the likes of Exxon Mobil.
Such a position has sometimes hindered oil companies in putting together a coherent strategy or set of shareholders. Right now, though, it makes Oxy a relatively safe haven in rough seas -- not to mention a potentially attractive takeover target.
Like BP on Tuesday, Oxy used its third-quarter results call on Wednesday to reassure investors that it would be able to live within its means at $60 oil. Of course, that rather requires oil getting back to $60 sometime soon -- right now, Brent crude futures don't get above that level until 2018.
Oxy's objective has some credibility nonetheless, in large part because of its mixed identity. Its best asset is prime acreage in the Permian shale basin. Oxy has been cutting costs there pretty swiftly by squeezing suppliers and becoming more efficient. Operating costs per barrel have dropped almost a fifth since the final quarter of 2014, to less than $11. Unlike Big Oil, Oxy isn't committed to a lot of multi-year projects where the spending must go on whatever the oil price. Its committed capital expenditure next year is just $500 million, and the ability to toggle Permian investment up and down at relatively short notice means 2016's overall capex budget will likely be around $4 billion, down from a projected $5.6 billion for 2015.
Backing this up is a balance sheet that is more akin to the majors than an E&P sector that is largely living quarter to quarter right now. Oxy's net debt of $5.8 billion equates to just 19 percent of equity. That has jumped from 9 percent a year ago, but is still well below the level of, say, Anadarko Petroleum, now at 81 percent. That provides a cushion for the vicissitudes of 2016.
Throw in a dividend yield of about 4 percent -- another major-like attribute -- and Oxy's stock isn't a bad place for energy investors to take refuge right now. And unlike the majors, its smaller size means it offers more potential for growth if prices turn up again.

The added twist is that Oxy's stock may also offer some M&A potential if the environment gets even worse.
Oxy's smaller scale relative to the majors, along with the dominance of its upstream business, mean Oxy's stock tracks oil prices more closely than, say, Exxon's does.
Oxy looks too expensive right now. But it isn't hard to imagine that if oil slips further into 2016, and Oxy's shares weaken with it, Big Oil might take notice and at least spitball the idea over a round of golf with bankers. Oxy is big enough to move the needle even for the behemoths, and its Permian position is eminently covetable. The majors would also be well positioned to take on or even dispose of the overseas and chemicals portfolio, or at least some of it.
Altogether, Oxy's straddle of both sides of the oil business offers a half-decent hedge amid the turmoil.
To contact the author of this story:
Liam Denning at ldenning1@bloomberg.net
To contact the editor responsible for this story:
Mark Gongloff at mgongloff1@bloomberg.net
Before it's here, it's on the Bloomberg Terminal.
LEARN MORE