Shopping
Camping Out at Cabela's
Elliott Management's investment in the outdoor-gear retailer could set the stage for an eventual sale.
by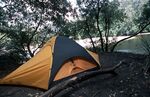 Cabela's is known for outfitting hunters. Now it's turning into prey.
Elliott Management, the activist firm run by Paul Singer, laid the bait on Wednesday by reporting an 11.1 percent stake in the seller of outdoor gear and citing "the robust environment for private-equity investment in retail companies" as one way to unlock value. The stock surged almost 20 percent, its biggest gain in five years.

At a minimum, Elliott's presence will likely encourage the company -- whose stock has slumped amid disappointing same-store sales and earnings -- to consider other options besides trying to fix its problems on its own. That could make it more open to a buyout.




Cabela's does possess some of the attributes of an attractive buyout candidate. It's digestible at less than $3 billion, has a relatively low level of debt from a private-equity standpoint and it isn't too pricey: Even after Wednesday's rally, it's trading at a discount to sales and commands one of the lowest valuations among specialty and sporting-good retailers, according to data compiled by Bloomberg.
An added sweetener, since private-equity firms love hidden gems: Cabela's has a credit business with $4.6 billion of receivables, which analysts at Stifel say could fetch more than $3.5 billion based on the valuation of Nordstrom's sale of its credit arm to TD Bank earlier this year.
For now, Cabela's is trying to turn things around by slowing store openings, buying back shares, selling excess land and other "unproductive" assets and cutting costs. And with founders Dick and Jim Cabela in control of almost a quarter of the company's shares, they may prefer for Cabela's to stay public. But since the bread and butter of private-equity firms is improving a company's operations, they may welcome a helping hand.
There's another reason buyout firms may consider taking a look at Cabela's: they need to put capital to work. Many haven't done a sizable retail deal in some time.
Some firms were beaten out at the auction for womens-wear retailer Ann by Lane Bryant owner Ascena Retail Group, while others are focused on nursing underperforming companies such as Toys R Us and J. Crew. Still others struggled to obtain "acceptable" financing to back buyouts of specialty retailers such as Chico's FAS (translation: the math hasn't worked). Perhaps because the environment for retail buyouts is less robust than Elliott suggests?

Then again, buyout firm Leonard Green & Partners -- which owns retailers including BJ's Wholesale Club and Lucky Brand -- already has had its eye on fishing-and-hunting retailers. The firm in was in advanced talks earlier this year to take a stake in Bass Pro, Cabela's closest rival, according to an April report by the Wall Street Journal.

Also, KKR, CVC Capital Partners, Apollo Global Management and Hellman & Friedman are all in the running to buy pet-supply chain Petco, with final bids due in November, Bloomberg News reported this month. Though they may pursue joint bids, there can only be one winner of an auction, meaning those that walk away empty-handed could find solitude by turning their attention to Cabela's.

The option to catch and release means there's no harm in fishing.
To contact the author of this story:
Gillian Tan at gtan129@bloomberg.net
To contact the editor responsible for this story:
Beth Williams at bewilliams@bloomberg.net
Before it's here, it's on the Bloomberg Terminal.
LEARN MORE