Cars
A Crucible to Strengthen VW
The emissions scandal could provide the impetus for a needed reorganization.
by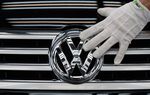 Volkswagen's chief executive, Matthias Mueller, had to drop off a conference call about its third-quarter earnings on Wednesday because he was traveling to China with Chancellor Angela Merkel. As the automaker copes with the diesel emissions scandal, it appears to believe it knows how to recover its standing with customers and remain a profitable operation. The bigger challenge will be handling regulators and lawsuits.
For the quarter that ended in September, VW posted an operating loss of 3.48 billion euros ($3.86 billion), because of a 6.7 billion euro provision to cover some of the fallout from the scandal. It was the automaker's first loss in 15 years. Chief Financial Officer Frank Witter said the provision -- which has increased by 200 million euros over the last month -- is intended to compensate for the cost of fixing the 11 million affected cars, a drop in the residual value of leased vehicles and payments to dealers who are handling the recall and striving to win over new customers. Witter said he couldn't rule out further increases in the provision.
The company appears to know what must be done to each car -- sometimes just a patch to the software, sometimes an enhanced emission control system -- and how much it will have to pay dealers. However, it is isn't able to make even an educated guess about how the scandal will affect the residual value of diesel cars that will be returned after leases run out. Used-car dealers say it is too early to estimate the damage. In the U.S., there are indications that resale prices dropped about 13 percent in the two-week period that ended Oct. 2, more than usual for the season. If the decline persists, VW could suffer a serious hit from car-rental companies and other customers on its leasing, financing or buy-back programs. The recall could help minimize the damage because the fraudulent emissions software or its fixes don't really affect performance.
Even so, VW hastened to make the provision for these potential expenses -- but not for regulatory fines and legal costs. Putting forward a number could signal a potential payout to lawyers filing class-action suits. VW would rather have a lower share price than enable the plaintiffs. 
What's clear is that the company will fight those suits tooth and nail. At issue will be determining the actual damage done to plaintiffs: How much did they overpay because of VW's claims about "clean diesel"? That's not easy to pin down. A California class action suit alleges an average premium of $3,500 per car, and if VW ends up paying that much, it will be liable for about $1.7 billion in the U.S. alone. It is likely the company will be able to settle the claims for less.
There also is the matter of fines imposed by various countries. It already is clear that the speculation the U.S. Environmental Protection Agency could demand up to $18 billion was an overstatement. 
Moody's, the credit rating agency, recently calculated three cost scenarios for VW. The most severe estimated litigation costs including fines at 10 billion euros; the mid-range was 4 billion euros and the optimistic version called for 2 billion euros. The company can handle these costs: Even with the recall provision, it posted operating profit of 3.3 billion euros for the first nine months of 2015. In 2014, it had net income of 10.8 billion euros. It still needs to minimize the litigation expenses, though, which may be why Mueller is eager to talk to Merkel, who might be able to help him keep the fines within reasonable bounds.
Mueller also knows, however, that whatever the litigation costs turn out to be, VW's numbers will look miserable for the next couple of years unless he overhauls the company. On the earnings call, Mueller promised to review VW's 300 models -- about twice as many as Toyota, whose return on invested capital is twice as high. In addition, VW has 600,000 employees -- about 50 percent more than Toyota -- and job cuts are likely.
The emissions scandal may provide the incentive for management to take a hard look at efficiency, especially now that emerging markets such as Brazil, Russia and China are no longer driving growth. Mueller probably would have to rethink VW, even without the controversy.
To contact the author of this story:
Leonid Bershidsky at lbershidsky@bloomberg.net
To contact the editor responsible for this story:
Max Berley at mberley@bloomberg.net
Before it's here, it's on the Bloomberg Terminal.
LEARN MORE