Retail
Seven & Why Loeb Should Junk the Supermarkets
The convenience store's owner needs to get rid of underperforming assets.
by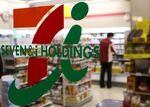 Third Point, the activist fund that Daniel Loeb used to press changes at Sony, robot maker Fanuc and Suzuki Motor, reportedly is now pushing for a shakeup at another Japanese business. This time he wants 7-Eleven owner Seven & I to make changes at its supermarkets unit, Kyodo News reported. Here's a thought: just get rid of it.

Seven & I has a wonderful chain of convenience stores that at present are mostly being used to prop up its Ito-Yokado supermarkets and Sogo & Seibu department stores. 7-Eleven accounted for 45 percent of revenue and 80 percent of operating income in the last fiscal year, according to data compiled by Bloomberg. Its operating margin of 10 percent compares with 1 percent at the supermarkets division, dominated by Ito-Yokado, and 0.8 percent at Sogo & Seibu.

On its own, 7-Eleven is an impressive business. Among publicly traded food and staples retailers in developed markets with more than $20 billion in annual sales, its operating return on assets of 14.4 percent trails only Publix Super Markets of the U.S. and Australia's Woolworths.

The cash it's generating is being used to prop up the underperformers in Seven & I's portfolio. While operating income at 7-Eleven exceeded capital spending by 105 billion yen ($871 million) last year, capex ran 43 billion yen ahead of earnings at the supermarkets division and 6.4 billion yen ahead for the department stores.

That sort of divergence might be justified if Seven & I was using the cash flow from its convenience stores to invest in growth elsewhere. But sales at 7-Eleven have risen 39 percent over the past five years, while they've gone backward at both Sogo & Seibu and Ito-Yokado. 

Loeb would be pushing at an open door if he started calling for reform -- Seven & I already announced some plans to restructure the two chains earlier this month.

He could afford to be bolder still. Japan's supermarket sector faces more profound demographic challenges than convenience stores as shoppers buy less, more often. There's a takeaway in that for Seven & I: It's time to take those non-essential items out of its basket and put them back on the shelf.


To contact the author of this story:
David Fickling at dfickling@bloomberg.net
To contact the editor responsible for this story:
Katrina Nicholas at knicholas2@bloomberg.net
Before it's here, it's on the Bloomberg Terminal.
LEARN MORE