Editorial Board
Poland's Risky Choice
The rise of the Law & Justice Party threatens the country's growth story.
by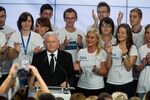 Polish voters are demanding change; that much is clear from Sunday's election. They may not like the change they're about to get.
It's hard to classify Poland's new ruling Law & Justice Party -- or its leader, Jaroslaw Kaczynski. Kaczynski's wariness about refugees aligns him with Hungary's Prime Minister Viktor Orban or French nationalist Marine Le Pen. His Euroskepticism matches that of Britain's U.K. Independence Party. His promises to hammer banks with new taxes, raise the minimum wage, ramp up social spending and assert more control over the economy are worthy of Europe's old left.
This populist combination threatens to be as toxic as it is bewildering.
That Poles have turned out to be so unhappy with the status quo is in some ways surprising. Poland was the only country in the European Union not to fall into recession during the financial crisis, and the country has been a growth leader. Both this year and next, gross domestic product is forecast to grow 3.5 percent -- 2 percentage points more than in the EU as a whole. Poles have also seen their disposable income and household credit grow. Polish banks are well-capitalized and profitable.
But there is another Poland, too: a country where 10.6 percent of the population qualifies as working poor, one of the highest such rates in the EU. Entrepreneurship and modern infrastructure are abundant in Warsaw and the western provinces, but eastern Poland seems stuck in an earlier era. Five eastern regions rank among the poorest in the 28 EU countries.
The Law & Justice Party spoke to those Poles left on the margins, capitalizing on their discontent and their fears about Europe's refugee crisis. After eight years in power, the ousted Civic Platform Party was seen as increasingly out of touch.
If exit polls are confirmed, Sunday's election was the first in Poland's post-Communist history to give any party a majority in the 460-seat Sejm, the lower chamber of parliament. Unfortunately, this leaves the new government with a better chance of carrying out its program.
Friction with Europe looks likely -- over migration, mainly, but also over budget, climate policy (Law & Justice has sought to appease coal miners) and the new government's tougher stance toward Russia. Increased family benefits, a lower retirement age and lower taxes on small- and medium-sized businesses will add to public borrowing. The party's plans to raise taxes on banks and its suspicion of foreign investors (especially large corporations) will undermine the economy.
While Poland's economy is strong enough to withstand some wobbles, it's not invulnerable. With a GDP similar to Belgium's but more than three times the population, Poland is still catching up with the rest of Europe. And though remaining outside the euro has given Poland monetary freedom, exchange-rate instability could scare away investment. Many aspects of policy -- including public procurement, bankruptcy law and market regulation -- are sorely in need of reform.
The new government would attend to some of that, if its priority were to create jobs and encourage the creation of new businesses. For now, at least, it has other plans.
--Editors: Therese Raphael, Mary Duenwald.
To contact the senior editor responsible for Bloomberg View's editorials: David Shipley at davidshipley@bloomberg.net .
Before it's here, it's on the Bloomberg Terminal.
LEARN MORE