Companies
Kinder Morgan's Uncertainty Principle
For the pipeline giant, "alternative" financing means "expensive."
by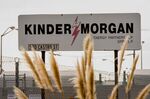 It is hard to be in suspense for long, but Kinder Morgan's shareholders may wish they could have stayed there.
Recall that last week, while releasing quarterly results and cutting its dividend target for 2016, the pipeline giant dangled the prospect of "alternative" financing to fund growth through the first half of next year. Regulatory constraints kept Kinder Morgan tight-lipped on what form this financing would take, though some speculated -- correctly, as it happened -- that it would be convertible preferred stock. This much was confirmed on Monday when the offer went out.
On Tuesday, investors awoke to the cost: a 9.75 percent coupon with an effective yield nudging double digits.
Which is a bit of a head-scratcher. Kinder Morgan's reasoning behind going the alternative route was that it was preferable to issuing common stock after its dividend yield had soared to around 7 percent. That now looks cheap in comparison.

When it partly lifted the veil on the preferred issue last week, Kinder Morgan's chief executive officer said the move was aimed at "breaking the cycle" of broader fears around falling energy prices weighing on the common stock.
Thus far, anyway, it isn't working: Since that call, Kinder Morgan's stock has slumped another 12 percent or so, lagging the S&P 500 and pipeline peers badly. The dividend yield, at 7.4 percent, is almost back to its late September peak, which was the reason for casting a wider financing net in the first place.
In part, Kinder Morgan is suffering amid a renewed selloff in energy markets, with benchmark natural gas futures falling below $2 per million British thermal units on Tuesday for the first time in three years and crude oil sliding toward the $30s with apparently little to stop it. While pipeline companies aren't supposed to have much direct exposure to commodity-price risk, the truth is their stocks are valued to a significant degree on the promise of growth. Falling oil and gas futures most certainly undercut that.
Kinder Morgan has raised the money it wanted, which will alleviate its primary concern -- namely, keeping its leverage in check. Yet the high cost involved, relative even to its dividend yield, suggests the equity window is not merely one to avoid tactically but just shut. And that raises a host of questions for the broader pipeline sector, which is similarly afflicted with lofty borrowing costs and cloudy growth prospects.
Maybe Kinder Morgan hasn't lifted the suspense fully after all.
This column does not necessarily reflect the opinion of the editorial board or Bloomberg LP and its owners.
To contact the author of this story:
Liam Denning at ldenning1@bloomberg.net
To contact the editor responsible for this story:
Mark Gongloff at mgongloff1@bloomberg.net
Before it's here, it's on the Bloomberg Terminal.
LEARN MORE