Markets
Humans 1, Machines 0 in Exchange Deal
ICE's acquisition of IDC shows that old-fashioned brainpower still matters.
by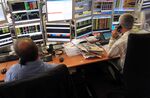 If you're human and a bond trader, here's some good news: You're not easily replaced by computers after all.
That's the implication of Intercontinental Exchange's $5.2 billion agreement to buy Interactive Data Holdings Corp., which specializes in evaluating fair market values on less-frequently traded debt.
It's a compelling acquisition, because the owner of the New York Stock Exchange could have easily sought to develop yet another electronic corporate-bond trading system. Instead, it opted to shell out billions of dollars on a firm that derives much of its revenue from a 200-person unit that evaluates bonds in the old-fashioned human way -- through talking with others, poring over deal documents and assembling information that isn't readily available through public trade-price systems.
The deal underscores the many ways in which bond trading is unlike buying a book or a vacuum cleaner or a 24-pack of toilet paper online. Credit traders rely on the color they get from talking to one another. Without information and some level of trust, it's hard to lure investors and dealers to the same place to make a deal, regardless of the technology.
"People still trust people more than they trust computers," said Kevin McPartland, a market structure analyst at Greenwich Associates. "I don't think that'll ever change."
This is especially true in the $8 trillion U.S. corporate-debt market, which includes thousands of bonds governed by idiosyncratic deal documents and owned by some colorful, intelligent and cunning characters (think Carl Icahn or Philip Falcone).
Wall Street traders traditionally knew who owned which bonds, which firms might want to buy or sell, and how to quietly make deals happen without wreaking havoc on prices. But big banks have cut staff, hired more junior traders and experienced an exodus of more-seasoned brokers as compensation declined and new rules curtailed their ability to take risk.
That's left a void. While some activity has moved to electronic systems, a lot of trading in more esoteric debt has simply stopped, with investors lacking conviction to make a deal.
Intercontinental Exchange, which announced its acquisition Monday, still may expand in the business of electronically trading corporate bonds. It already owns exchanges for everything from futures to derivatives to commodities to credit derivatives. But the recent trend in exchanges has been to focus more on information.
There's no question that the bond market can benefit from increased transparency and more efficient market-making. But as Intercontinental Exchange has made clear, plain human deduction can matter as much as algorithmic speed.
To contact the author of this story:
Lisa Abramowicz at labramowicz@bloomberg.net
To contact the editor responsible for this story:
Daniel Niemi at dniemi1@bloomberg.net
Before it's here, it's on the Bloomberg Terminal.
LEARN MORE