Energy
BP Buoys Investors, Sinks OPEC
Look what happens when you promise to keep pumping.
by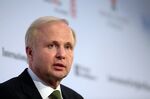 BP delivered a message on Tuesday that was drowned out by the whistle of falling oil and natural gas prices. Two important audiences -- shareholders and OPEC -- should have pricked up their ears, though.
For BP shareholders, the oil major delivered third-quarter earnings well above the consensus forecast, helped by unusually high refining margins. But BP's message for the future, while not exactly warm and fuzzy, should give shareholders some comfort.
Chief executive Bob Dudley has said for a while now that he sees the pattern of future oil prices as more of a "long U" than a bullish "V." He affirmed on Tuesday that the company is basing its near-term plans on $60 oil. Brent futures don't get above that level until mid-2018, and Brent recently traded below $47. But this does suggest BP's outlook at least approximates today's harsh reality.
BP trumpets "value over volume" -- a familiar refrain across the oil industry, but BP's spending plans suggest it has truly gotten religion. Capital expenditure this year is set to be $19 billion, the lowest since 2011, and to hold at or below that level over the next two years.

BP also aims to cut its cash operating costs by $6 billion by 2017 relative to 2014 -- which just happens to be roughly equivalent to 2014's dividend bill. And that is the key message for investors: With BP's dividend yield having risen from less than 5 percent to almost 7 percent over the past two years, it is clear where its priorities should lie.
Turning to another key audience, OPEC, the message was mixed. On the one hand, BP's professed capital discipline is music to the cartel's ears. If the likes of Saudi Arabia want lower oil prices to rebalance supply and demand by forcing out higher-cost producers, then BP's falling investment budget affirms things are on the right track.
But the other part of BP's message is that the destination is a moving target. Yes, the investment budget is lower, but BP said the majority of that reflects cost deflation -- a buzzword on Tuesday's call -- rather than simply downing tools.
As in any presentation by an oil major, BP took time to talk up efficiency gains in projects ranging from Egypt to the U.S. onshore business. The one that really ought to get OPEC's attention, though, was BP's claim that, despite weak oil prices, prospects in deepwater discoveries were not "played out."
Why is this important? While many portray OPEC as being engaged in a war on shale, fracking's short timelines and relatively small spending budgets make it tough to kill. Rising oil prices would have rigs back to work within a year or so. For OPEC, better targets are those prospects involving long lead times and big upfront spending. Once capital is sunk into those, they keep producing no matter what happens to oil prices. That's the definition of a deepwater project.
BP's deflationary zeal is another kick in the teeth for the oilfield services sector. The bigger point is that OPEC will have to work harder for longer to retake market share and force out competitors -- with oil prices a continuing casualty of the battle.
To contact the author of this story:
Liam Denning at ldenning1@bloomberg.net
To contact the editor responsible for this story:
Mark Gongloff at mgongloff1@bloomberg.net
Before it's here, it's on the Bloomberg Terminal.
LEARN MORE