Cars
VW's Brief Reign as No. 1 Ends
The carmaker loses its crown to Toyota after just one year.
by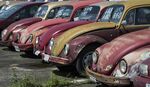 Volkswagen's brief run as the world's biggest automaker officially ended today, with Toyota reporting that it sold 7.49 million vehicles this year through September to VW's 7.43 million. I'm guessing the German automaker won't be challenging for the top spot again anytime soon.
This seems to be a clear example of why we should be careful of what we wish for. When Martin Winterkorn took over as chief executive in 2007, Volkswagen's 6.2 million in annual vehicle sales made it the world's fourth-biggest automaker, behind General Motors, Toyota and Ford. That November, though, Winterkorn presented the company's board with a bold plan to become No. 1 by 2018.
VW's "Strategy 2018," as it was called, wasn't just about sales, Winterkorn said in a 2011 interview with Automotive News:
We have indeed established four objectives:  We want to have the most satisfied employees and customers in the world, sell more than 10 million cars a year and achieve a profit margin of more than 8 percent. So size is not a goal in and of itself.
But it was the sales goal that clearly stuck in people's minds, both inside and outside of the company. It's also the one Strategy 2018 goal that VW actually achieved:

VW surpassed its 10 million annual sales target four years early, in 2014. For the first half of 2015, its sales surpassed Toyota's for the first time. Winterkorn basked in the company's success.
Then everything fell apart with the company's admission in September that it had rigged its "clean diesel" engines -- which weren't very clean at all -- to fool emissions-testing machines. Winterkorn is now out, and the company faces a long ordeal of recalls, lawsuits, government enforcement actions and perhaps an even longer struggle to regain customer trust. VW is expected to report a loss for the third quarter of 2015 on Wednesday, and the current consensus among analysts surveyed by Bloomberg is that its earnings per share for the year will fall 51 percent from 2014.
There are of course lots of explanations for why VW went astray. But aiming for such a big sales increase, in a mature industry, was a hugely risky maneuver. It put pressure on VW managers to cut corners, and to look the other way when others were doing so. It was a stretch goal that stretched the company until it broke.
Maybe a better manager than Winterkorn could have made it all work by balancing great ambition with controls and ethics. Then again, a better manager than Winterkorn might have thought of a less reckless way to push his company forward.
It's good to be No. 1. It's not good to make getting there such a priority that everything else falls by the wayside.
To contact the author of this story:
Justin Fox at justinfox@bloomberg.net
To contact the editor responsible for this story:
James Greiff at jgreiff@bloomberg.net
Before it's here, it's on the Bloomberg Terminal.
LEARN MORE