Transportation
Taxis Can Still Survive Uber
Their biggest threat is Uber's deep pockets, not its tech.
by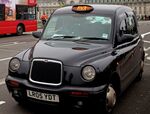 Perhaps the biggest challenge for Uber  is the prospect that the established taxi industry will fight back by eliminating its technological advantages. That is increasingly easy to do. But to beat Uber, firms will need to fight ruthless price wars or at least help their cab company clients to do that.
Technology entrepreneurs are always trying to piggyback on existing taxi services to muscle in on some of the Uber action. The rationale for both sides is clear. If you're a tech startup and you give taxi operators an app with all the functionality of Uber, you'll get instant access to a huge fleet of cars that Uber is struggling to build with its greenfield approach. If you're a taxi operator, you're loath to miss out on the tech revolution and be "disrupted" to death. Techies and cabbies badly need each other.
No app, however, has yet managed to harness the market power of licensed taxis on a global scale. Israeli startup Gett, for example, sells the services of London black cabs and New York yellow cabs, but it's only present in five countries so far, compared to Uber's 63. London-based Hailo is well-known in its home market, but its geographic reach is similarly unimpressive. Arro, the recently-launched app that works with New York's licensed cabs, doesn't work anywhere else yet. Yandex Taxi, the Moscow market leader in the number of available cabs, has left Uber far behind on its home turf but has made no attempt to build a presence outside Russia. And Karhoo, a new entrant which started in London but has moved its headquarters to New York, says it has lined up a global network of 200,000 cars, including official taxis. But Karhoo will only launch early next year; meanwhile, Uber says it adds 50,000 drivers per month.
Uber's technology is far from unique anymore. All of the above services are able to locate the nearest available cabs and more or less accurately predict their -- usually reasonable -- arrival time. All offer the convenience of credit card payment so a passenger doesn't need to fumble with cash or tip. All make it possible to connect with the driver if a customer has forgotten something in a cab. There is no secret sauce. Some developers even offer to build proprietary car-hailing apps with all the standard functions. The back end of these apps can in most cases be installed on the driver's smartphone, so no additional equipment is needed.
What these apps emphatically do not do is surge pricing a la Uber: They don't raise fares when there's a shortage of cars on the street. That is supposed to be Uber's biggest innovation, and it helps entice the company's freelance drivers to work in foul weather or urban traffic jams. Apps that work with licensed cabs don't need that, however: Full-time cabbies have other enticements to work every day. As for customers, they can do without the feature, which is one of Uber's most controversial because it's hard to tell from price gouging. Gett, Hailo and Arro advertise its absence to differentiate themselves from Uber. Whatever increase in commission revenue they could make from surge pricing, they don't want it, and I doubt it's all that important to Uber itself. Despite surge pricing, the company -- which is valued at over $50 billion -- loses more money than it makes in revenue.
Aggressive pricing is, perhaps, the main reason no one has yet managed to build a global competitor to Uber using licensed taxis. Hailo tried its luck in the U.S. but had to pull out a year ago, deciding it didn't have the marketing budget to compete. This is not so much about advertising as about fighting a price war with Uber, Lyft and Gett, which has offered promotional $10 rides anywhere in Manhattan (a similar policy helped it gain a foothold in London). 
Price wars are common among taxi app companies. In China, the strong local player, Didi Kuaidi, backed by tech giants Tencent and Alibaba, has fought Uber by offering short rides free of charge. London, too, is seeing heated price competition as apps subsidize drivers to undercut competitors. In Moscow, taxi fares haven't risen -- and have actually dropped for some rides -- despite the sharp ruble devaluation because Yandex Taxi and Gett have been slugging it out.
This is great for customers, of course, but they can only benefit from low prices while the market is up for grabs. Once it becomes more settled, there will be no point for players, including Uber, to maintain subsidies and keep losing money. For now, Uber's biggest advantage is not its technology but its deep pockets. It has raised $10 billion, more by an order of magnitude than its closest competitor, Lyft. Gett has only raised $220 million.
If Uber manages to monopolize the market even as it keeps burning cash, or if an oligopoly of well-funded app-makers forms, prices will go up. Paradoxically, the survival of licensed, regulated cabs is the only safeguard against that. 
Paul Brannon, a spokesman for Karhoo, told me by email his firm was not going to subsidize drivers but would just operate as a price comparison service. "Karhoo," he said, "is not looking to compete with Uber -- it's a different model, empowering the incumbents and providing consumers with choice." This model, however, will only work if incumbents enjoy some regulatory protection that makes sure they are not swept away. 
While that protection -- stronger in some countries and weaker in others -- still exists, there's a window of opportunity for one or several tech companies to build global infrastructures using regulated taxi fleets and hold out until Uber decides to start turning a profit instead of just expanding. 
To contact the author of this story:
Leonid Bershidsky at lbershidsky@bloomberg.net
To contact the editor responsible for this story:
Therese Raphael at traphael4@bloomberg.net
Before it's here, it's on the Bloomberg Terminal.
LEARN MORE