Tech
Microsoft's Surface Tension
The software giant has to balance promoting its own wares and alienating partners.
by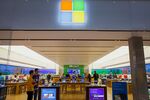 The curious tourists gawking at Microsoft's new Manhattan retail store may not know it, but they are staring at a five-floor strategic puzzle for the software giant.
The shiny beacon of computing commerce opened Monday on New York's famous Fifth Avenue shopping strip, with the snaking queues, thumping music and television cameras now familiar from Apple retail store launches. (Apple's Fifth Avenue glass cube is only a few blocks away.)
Inside, Microsoft's own computing hardware like the Surface receives top billing, with less prominent roles for longtime Microsoft partners like Dell. This is natural at a retail showcase with Microsoft's own name out front. Still, the store is a reminder that Microsoft's homegrown computers remain a novelty, and both the company and its hardware allies are still grappling with the repercussions.
For the biggest chunk of Microsoft's 40-year history, until the 2012 introduction of the first Surface PC-tablet hybrid, Microsoft concentrated largely on making the software for personal computers and left to partners like Hewlett-Packard the work of designing, making and selling PCs. In Microsoft's fiscal year ended in June, the growing Surface line racked up more than $3.6 billion of sales -- some of which is money that otherwise would have gone to buy PCs from Microsoft's partners.
Microsoft does and should get credit for using the Surface as a testing ground for new ideas of what a computer could be. This was desperately needed at a time when there have been too many shabby, me-too laptops from the PC makers, and people instead spent their fun money on new smartphones or other buzzy gadgets.
Yet the Microsoft store -- and the zillions of TV commercials airing now for Microsoft's new Surface Book  laptop -- also spotlight the careful line the company has to tread between promoting its own products and showing too much favoritism for its hardware line. Few PC makers have complained publicly about Microsoft's shifting status from ally to partner/competitor, but undercurrents of annoyance do pop up.
Michael Dell last week  got in a sly dig at Microsoft's hardware line during a joint interview with Microsoft CEO Satya Nadella at the Dell World conference. The Dell founder said Microsoft's computing lineup acted like an icebreaking ship to clear a path for all Windows computers. A compliment! Followed by this: "The volumes are not very high. The prices are pretty high. But it's great," he said to laughs from the audience.
The risk of Microsoft alienating its allies is perhaps less acute in personal computers -- where Microsoft is top dog -- than in smartphones, where Microsoft needs all the help it can get. 
When Nadella acknowledged last summer that the company needed to hit the restart button on Microsoft's struggling Windows smartphone business, he also extended an olive branch to phone hardware makers. Microsoft needs a "vibrant Windows ecosystem," Nadella said in a memo at the time. If you don't speak tech jargon, that is code for, "Pretty please, will someone besides us start making Windows smartphones?"
If you're Samsung, HTC or other smartphone hardware companies, Microsoft's emphasis on its homegrown PC hardware line sends a mixed signal. Samsung already battled Microsoft in a contract dispute prompted by Microsoft's entry in the phone hardware business. Microsoft by default makes the vast majority of the (few) Windows smartphones sold. Given recent history, smartphone hardware makers have reason to fear Microsoft may push more and more into their business if the software company feels they're not living up to their end of the bargain. 
Back for a minute to that Microsoft retail store. You are forgiven if you were not aware Microsoft has its own retail stores, just like Apple. There are now more than 110 Microsoft stores, mostly in malls, which seem to exist as a spot for kids to hang out and play Xbox games. 
Microsoft hasn't yet been forced to prove the financial or strategic benefit of its retail strategy. The company has never disclosed sales at its retail stores nor how much the company spends on them. Rather, Microsoft is using Apple as an icebreaker, to the point of mimicking the wooden display tables and aggressively cheery helpers of Apple's retail stores, which numbered more than 450 worldwide as of late June.
Apple, of course, doesn't have partners looking over its shoulder, wondering whether it's siphoning off sales that they think rightfully should belong to them. The tricky balancing act for Microsoft is making sure that its gleaming new stores and gleaming new hardware don't overshadow the allies that it relies on to keep buying its all-important software.     
To contact the author of this story:
Shira Ovide at sovide@bloomberg.net
To contact the editor responsible for this story:
Daniel Niemi at dniemi1@bloomberg.net
Before it's here, it's on the Bloomberg Terminal.
LEARN MORE