Media
Without Malone, Vodafone Faces an Empty Dance Card
The European mobile phone giant needs a partner, but one of its best options is looking elsewhere.
by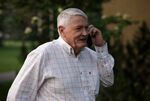 Liberty Global's John Malone has wasted no time in moving on from his aborted effort to do a deal with Vodafone in Europe -- an endeavor he memorably described as like trying to grab a banana from a jar.
Now he has his eyes on a smaller but more exotic fruit in the shape of Caribbean wireless provider Cable & Wireless Communications. Liberty Global said on Thursday that it was in talks to buy the company, with one person familiar with the matter putting a price tag of more than $5.5 billion on the purchase.
Vodafone's European wireless assets would have been nice for Liberty Global to have amid the push to create bundles of TV, Internet and phone services. Where it doesn't have its own mobile network, Liberty Global often has to use virtual ones by agreement with other operators. But as this latest deal shows, the Vodafone transaction wasn't Liberty Global's only option.

In July, the company created a tracking stock called LiLAC for its assets in Latin America and the Caribbean. The move was designed to give Malone more financial flexibility to go after deals in that region, so it's a safe bet that Cable & Wireless is just the start of an acquisition foray there.
And then there's T-Mobile Netherlands, which Deutsche Telekom is considering selling. The carrier was pegged from the start as a potential target for Liberty Global, whose relatively weak presence in Dutch mobile could help it avoid the antitrust scrutiny it's drawn elsewhere in Europe.
Vodafone, by contrast, doesn't have a lot of opportunities to buy the kind of cable operations it would have obtained through a deal with Liberty Global. It needs more TV and Internet customers to help offset stagnating mobile revenue and improve customer retention. Patrick Drahi's Altice and Liberty Global have already gobbled up a lot of the good cable and wireless targets, though. In its home market in the U.K., BT is buying wireless provider EE, and O2 and Three -- the local units of Telefonica and CK Hutchison Holdings -- are merging to create the country's biggest mobile operator.
A takeover of Sky would go a long way toward providing Vodafone with more pay-TV customers, but the company is expensive and the Murdoch family doesn't seem all too keen on selling out. That leaves Vodafone in the position of needing to build and partner its way to a quadruple play offering. Its mobile networks alone aren't going to cut it.
Malone is showing he may not have needed Vodafone as badly as Vodafone needed him. That could bring the companies back to the table.
To contact the author of this story:
Brooke Sutherland at bsutherland7@bloomberg.net
To contact the editor responsible for this story:
James Boxell at jboxell@bloomberg.net
Before it's here, it's on the Bloomberg Terminal.
LEARN MORE