Draghi Is Right to Plan More Monetary Stimulus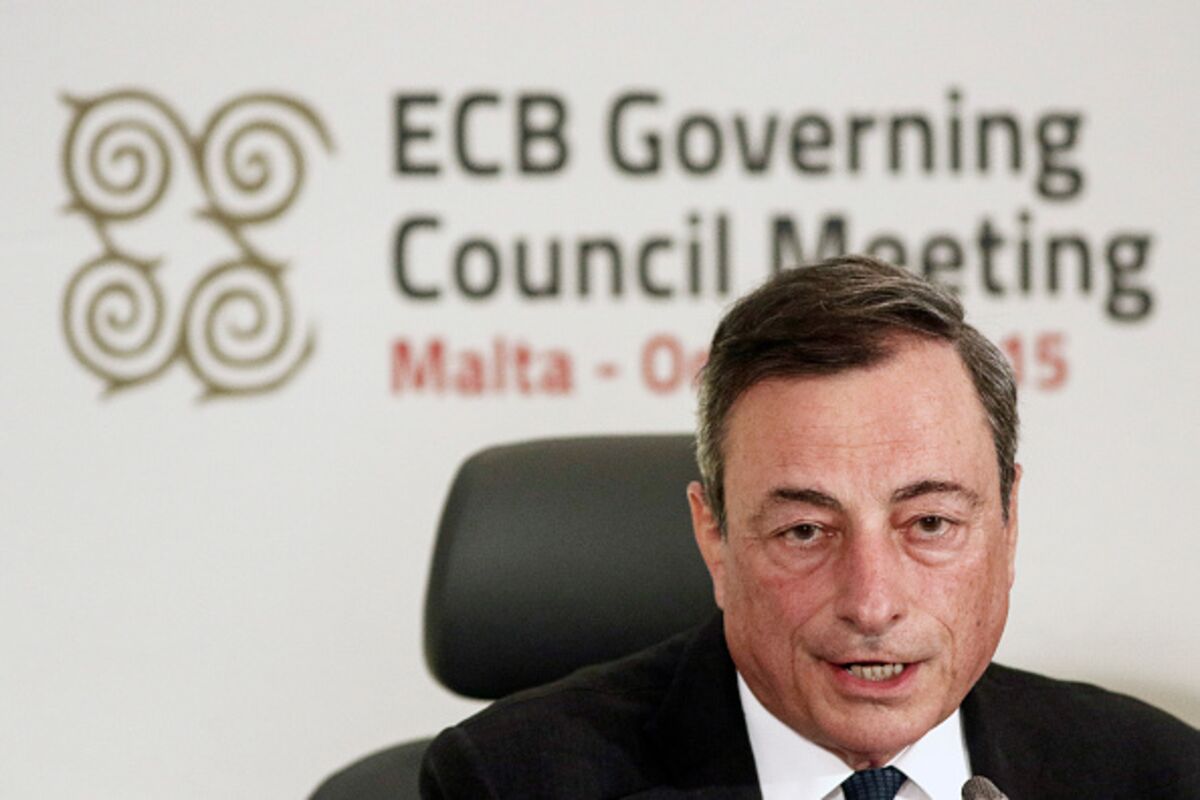 It's all in the delivery.
Photographer: Yorgos Karahalis/Bloomberg/Getty Images
The European Central Bank managed to move financial markets Thursday despite leaving policy unchanged. ECB President Mario Draghi said the bank was weighing the need for more monetary stimulus and was ready to act at its December meeting. Bond yields and the euro fell.
That's all to the good. The case for further stimulus in December is strong -- and in the meantime every little bit of interest-rate and currency easing helps. It would have been better, though, if the bank had acted this week.
If the U.S. recovery is tepid, Europe's is chilled. The International Monetary Fund expects output in the euro area to grow by only 1.5 percent this year and 1.6 percent in 2016. Unemployment stands at well over 10 percent and inflation is persistently below the ECB's target. Over the past year, prices have fallen.
A program of quantitative easing is in place -- the ECB has been buying 60 billion euros worth of assets each month -- and the signs are that this has helped. But expectations of inflation remain too low, and Draghi said he was concerned about new downside risks in the outlook.
He was right to affirm that the central bank isn't out of ammunition. The ECB can extend the time frame for its planned QE -- the purchases are currently promised to run until at least September next year -- and can increase the amounts. It should do both. If this means widening the range of assets it proposes to buy, fine. Another option is to lower the interest it pays on reserves, making the rate slightly more negative. It should do that too.
In short, the view that monetary stimulus is now a spent force is wrong.
Draghi said that some members of the bank's policy-making council had raised the possibility of acting immediately rather than waiting. It's a pity that didn't happen. Throughout the crisis and its aftermath, the ECB has been slow to act, always erring on the side of caution. Deflationary pressures were allowed to build for too long before the QE program began. Under current conditions, the risks arising from too much stimulus are lower than the risks of doing too little.
Still, one needs to remember that the ECB is being asked to carry the whole burden of providing needed stimulus. Fiscal policy can and should be doing much more, but that would require a degree of policy cooperation that the European Union has struggled to achieve.
The ECB has underperformed, but by a vastly smaller margin than Europe's governments have. For the moment, monetary policy is Europe's only weapon against deflation. It needs to be fully deployed.
To contact the senior editor responsible for Bloomberg View's editorials: David Shipley at davidshipley@bloomberg.net.