Companies
Kellogg's Unhealthy Snack Choices
Surely the food giant can find better uses for its $1 billion.
by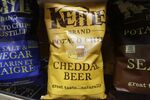 Of all the food brands out there, Kellogg picks this one to devour.
The company is closing in on a purchase of Diamond Foods, the maker of Kettle chips and Pop Secret popcorn, according to the New York Post, and the price being discussed is $35 to $40 a share, or more than $1.5 billion. While that's a drop in the bucket for $26 billion Kellogg, it's money that could be better spent elsewhere.
Like most major food companies, Kellogg has run out of ways to grow revenue. Americans and Europeans are eating less cereal, which accounts for a large chunk of Kellogg's business. Sales at its U.S. morning foods segment fell 10 percent in the first quarter from a year earlier and tumbled another 9.5 percent in the second quarter. And many consumers are looking to eat healthier snacks (or at least ones that sound healthier) than the Keebler cookies Kellogg makes or the Pringles chips line it bought from Procter & Gamble three years ago. The snack market is also fickle -- one day it's all about protein, the next it's gluten-free, the next, who knows. 

Kellogg and the other big, household names still dominate mainstream supermarket shelves. But appetites and shopper loyalties are shifting, and these companies need to make smart acquisitions to keep up. 
Diamond Foods is hardly the solution to these problems. If you think Kellogg has weak growth prospects, Diamond Foods isn't any better. And it's not hard to see why: Chips and popcorn account for more than half its revenue. In theory, its Emerald nuts segment could benefit from the rising popularity of healthy foods, but it hasn't. Sales have been declining in that unit, too.
If the New York Post got the price right, the deal also looks expensive. Diamond Foods generated $105 million of Ebitda in the 12 months through July, meaning Kellogg is paying roughly 14 times that. North American food companies have sold for a median of 11 times Ebitda in the past five years (excluding transactions smaller than $500 million). 
Kellogg, which declined to comment on the Post report, should be scouting out the up-and-coming food brands capitalizing on the organic and natural food fad. That's where the growth is right now, and such targets are worth rich multiples. General Mills made a smart move last year to get Annie's, the maker of organic mac and cheese, spending only about $800 million on a business that analysts had projected would triple sales over the next few years. 
For Kellogg, a more attractive takeover candidate might have been Amplify Snack Brands, the $930 million maker of Skinny Pop popcorn that went public in August. Its stock hasn't done so well, but that could be an opportunity for suitors because the growth is there -- some analysts forecast 10 to 20 percent per year. There is also a host of private makers of popular snacks, such as Nature's Path and KIND.
It may make more sense for Kellogg to spend $1 billion across several small, fast-growing targets than dish it all out for Diamond Foods. It has been doing that to some degree in emerging markets: This year, Kellogg acquired two Egyptian companies -- Bisco Misr, a packaged-biscuit maker, and Mass Food Group, a cereal producer -- for less than $200 million in total.
But North America will probably be Kellogg's main market for years to come, and the last acquisition that really positioned it well for the healthy foods trend was back in 2000, when it bought Kashi for $33 million. That was a long time ago, and the benefits of that deal came and went, as the Wall Street Journal noted in an article this summer exploring Kellogg's missteps with the Kashi brand.
Though it's struggling to turn Kashi around, Kellogg wasn't wrong to buy it. In fact, it needs to find more Kashis -- small brands in the right niche that it can grow through its distribution and marketing muscle -- and leave Diamond Foods on the shelf. 
To contact the author of this story:
Tara Lachapelle at tlachapelle@bloomberg.net
To contact the editor responsible for this story:
Mark Gongloff at mgongloff1@bloomberg.net
Before it's here, it's on the Bloomberg Terminal.
LEARN MORE