China
Fast Food Loses Its Sizzle in China
KFC's troubles reflect headwinds that will be hard to reverse.
by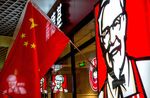 Not that long ago, business books and case studies hailed Kentucky Fried Chicken's China subsidiary for having figured out the world's biggest market. Its parent company, Yum Brands, controlled around 40 percent of China's fast-food market by 2011; Yum China -- primarily KFC and Pizza Hut -- generated around 44 percent of the company's global revenue. At one point, the company was opening 500 new fast-food outlets every year in China (it had 6,715 at the end of 2014, up from 1 in 1987) and seemed destined to dominate the sector.
Starting in 2012, however, the company began to falter. This week Yum announced that it was spinning off its once-prized mainland operations entirely. The split is meant to maximize shareholder value while providing Yum China the freedom to find its way out of a multi-year slump without being micromanaged from abroad.
The move has already bolstered Yum stock. But it's not going to solve the spinoff's problems in China. There, the company -- like other U.S. fast food chains -- faces a series of headwinds that will be difficult if not impossible to reverse.
The central challenge is China's changing demographics. For 30 years, KFC and Pizza Hut targeted their products at young Chinese and families. But declining fertility rates across China have shrunk that demographic -- a trend that's unlikely to change anytime soon. Between 1997 and 2014, Chinese primary school enrollments declined from 25 million to 16.58 million; junior high school enrollments decreased from 22.63 million to 14.48 million. Meanwhile, an aging China is already home to the world's largest population of people over the age of 60 -- a demographic that doesn't tend to buy a lot of chicken nuggets.
To make matters worse, young Chinese are much more affluent and sophisticated than previous generations; for them, the novelty of eating at an American fast-food chain has long since worn off. A September consumer survey by Miller Shandwick noted that 62 percent of Chinese consumers had posted their "food experiences" to social media in the last month, with 17 percent of them sharing food pictures every day (including a large percentage of my own WeChat friends). Despite KFC's to-die-for egg tarts, these Chinese foodies aren't looking to advertise their presence at a banal chain restaurant.
In 2012, consumer survey firm Millward Brown found that 39 percent of Chinese found Yum-owned Pizza Hut a "desirable brand"; last year less than one-quarter did. These days, young Chinese are seeking out interesting local alternatives such as a "duck burger" restaurant introduced by one of Beijing's best Peking Duck vendors just this week. Meanwhile, homegrown fast food chains that serve local -- rather than localized -- food are gaining market share.
Finally, scandals have undercut perhaps the strongest advantage KFC and other U.S. brands long held: the widespread perception among Chinese that they're cleaner and safer than their much-maligned (often justifiably so) Chinese counterparts. The fallout began with 2012 revelations of excessive antibiotic usage in KFC chickens ("I don't go to the doctor, I go to KFC," became a common joke in the wake of the story) and continued with an even more damaging 2014 media report that showed a Shanghai-area supplier of chicken to KFC and other fast-food chains repackaging expired meat. The scandals have been a boon to local chain restaurants that now argue they're no worse, and possibly better, than foreign alternatives.
Fast-food companies aren't alone in facing these problems, of course. Foreign consumer brands are losing market share to local competitors across China, according to a June study from Kantar Worldpanel and Bain & Co. The trend is especially strong in smaller Chinese cities where incomes are lower and premium brands -- KFC and Pizza Hut still qualify out in the boondocks -- aren't nearly as competitive.
Yum's challenge is greater due to its almost universal brand recognition and the scale of its operations. But the situation isn't hopeless. Step one should be for the company to reposition its brands to appeal to an older, more sophisticated demographic. That doesn't mean high-end Italian (like it's currently trying in one of Shanghai's most expensive addresses), but rather a rethink of its menu to reflect the concerns of an aging, increasingly health-conscious population.
Indeed, the company might take its cue from U.S. fast-food chains such as Chipotle and Noodles that have pioneered a higher-end "fast casual" sector still mostly unexplored in China. In the meantime, KFC and other Western brands will have to adjust to a China where competition is stiffer, consumers are savvier -- and growth is inevitably slower.
To contact the author of this story:
Adam Minter at aminter@bloomberg.net
To contact the editor responsible for this story:
Nisid Hajari at nhajari@bloomberg.net
Before it's here, it's on the Bloomberg Terminal.
LEARN MORE