Energy
Santos, Swallow Your Pride. Take the Scepter Deal
Falling earnings forecasts and a glut of LNG mean Scepter's offer isn't as demeaning as it may look.
by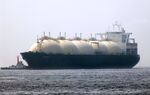 Santos shareholders could be excused for feeling aggrieved.
The Australian energy company first proposed a liquefied natural gas export terminal on the country's east coast back in July 2007. Over the past year, its shares have lost more than half their value as the indebted company labored under its 30 percent share of the Gladstone plant's $18.5 billion capital spending bill. Last Friday, the plant finally shipped its first cargo. Four days later, it received a A$7.14 billion ($5.1 billion) takeover bid.
It's not just the timing. At A$6.88 a share, Scepter Partners' proposal comes at a 47 percent discount to the average stock price since the Gladstone terminal was first mooted eight years ago. Santos's board was quick to dismiss the offer as "opportunistic.''
When Santos broke ground on the project in 2011, oil cost more than $100 a barrel. LNG prices, which are set in relation to oil in Asian markets, looked similarly attractive. That's changed. With Brent at $48 a barrel and the Australian dollar at 72 U.S. cents, Santos is uncomfortably close to the below-$40-a-barrel and above-80-U.S.-cents levels at which its free cash goes negative. With net debt about 5.1 times its Ebitda, that's not a comfortable position to be in.
The justification for all this risk has been the expected earnings that would flow once Gladstone was up and running. As oil prices have fallen, analysts' expectations on that front have been slashed:

On paper, Santos does have other options for raising cash. It's got stakes in projects including an Exxon-led LNG terminal in Papua New Guinea and a ConocoPhillips plant in Australia's northern city of Darwin. And it's also considered selling the pipeline supplying the Gladstone terminal, according to people familiar with the matter. But it's now the best part of a year since the company first put up the For Sale sign, and the only divestitures to date have been scraps.
The environment for LNG doesn't look like improving any time soon, either. Goldman Sachs cut its forecast for U.S. natural gas prices by 5 percent on Tuesday. It reckons oil could drop as low as $20 and remain weak for 15 years. A global glut of gas exports will be amplified when the first U.S. terminal starts up later this year. Consultants IHS estimate that only one out of 20 LNG projects are necessary to meet demand up to 2025. 
Looked at in that context, the offer from Scepter Partners -- a fund with links to Gulf royalty and wealthy Asian families -- isn't quite as demeaning as it seems. Santos's share price may have fallen, but forecasts for its earnings have fallen faster. In valuation terms, even before today's offer the company was as prized as it had ever been: 

Based on analyst estimates of A$1.7 billion in Ebitda in the 12 months to December, Scepter's bid values Santos's equity and debt at 9.5 times earnings. Looking at the 2016 fiscal year, which might be more reasonable given the LNG's only just started flowing, produces a 6.9 times multiple. That's a smidgen below the 7 times median in 55 oil and gas takeovers valued at more than $1 billion over the past five years, according to data compiled by Bloomberg. Santos would be foolish not to leave the door open.
To contact the author of this story:
David Fickling at dfickling@bloomberg.net
To contact the editors responsible for this story:
Paul Sillitoe at psillitoe@bloomberg.net
Katrina Nicholas at knicholas2@bloomberg.net
Matthew Brooker at mbrooker1@bloomberg.net
Before it's here, it's on the Bloomberg Terminal.
LEARN MORE