Companies
Kinder Morgan's Mysterious Ways
The energy giant just gave investors more reasons to be nervous.
by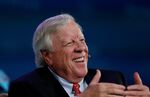 For the stock market, Richard Kinder just doesn't seem like ideal boyfriend material. Not only does he play the field, when you try to talk to him about it, he shuts down.
The company he chairs, Kinder Morgan, surprised investors on Wednesday evening not merely by missing earnings estimates and scaling back dividend growth targets, but also announcing plans for a new capital infusion.
Actually, "plans" is probably too generous. Rather, the company said that with its cost of equity now so high -- the dividend yield having risen to 6.5 percent -- it had "identified alternative funding sources" to meet its needs through the first half of 2016. Questioned by analysts as to what those sources were, Kinder demurred, citing regulatory restrictions. The stock fell 5 percent Thursday morning.

Kinder Morgan's relationship with public markets has shifted back and forth over time. It was co-founded in the late 1990s, when web-obsessed investors left infrastructure assets going cheap. The company was taken private in 2006, re-listed in 2011, and then consolidated into a regular company last year, folding in several master limited partnerships in the process. From Kinder Morgan's perspective, if it isn't feeling much love from the public market, then it will simply seek the arms -- or alms -- of another.
It's all just guesswork at this point, but one possible candidate for funding is convertible preferred stock. That would carry a lower cost than the current dividend yield. Infrastructure funds or pension pools wary of anything energy-related might be willing to take a coupon of, say, 4 or 5 percent and the promise of gains on the stock down the road.
What is clear is that Kinder Morgan needs fresh capital. Debt at the end of September was 5.8 times trailing Ebitda. Though it's no longer an MLP, the company's equity story still hinges on big payouts and the promise of growth. So amid Wednesday's cloak-and-daggery, Kinder Morgan reaffirmed this year's dividend target of $2 per share and still aims for between 6 and 10 percent growth next year.
Analysts forecast Ebitda of $7.1 billion this year, according to data compiled by Bloomberg. Take off roughly $2 billion for interest costs, and the remaining $5.1 billion is a rough approximation of the cash left over for dividends and capital expenditure. Adjusting for new shares sold in the third quarter, this year's dividends should swallow $4.4 billion.
That leaves $745 million facing a consensus estimate for capital spending this year of $4.8 billion. The implied shortfall of about $4 billion is mostly covered by equity sold already this year. But there is next year to consider, and the equity window is seemingly closed. Based on consensus estimates, and assuming a 6 percent bump in the dividend, the capital need looks similar to this year at $3.9 billion. Hence the need for some creative financing and flexibility on the dividend target.
On the positive side, Kinder Morgan does appear to have access to another pool of funding if the public market won't play ball. Earlier this month, on a much smaller scale, Targa Resources did much the same thing, holding dividends flat at its MLP unit and issuing perpetual preferred units. Since then, the stocks of both Targa and the MLP have held their ground -- though that may reflect the beating both had taken already this year.
The wider context dilutes the optimism. There is just no getting away from the fact that a major energy company with a market capitalization of $69 billion just said that its access to public equity now comes at such a cost that it will go elsewhere. That should cause at least a few ripples of concern across the industry, what with many pipeline companies and the exploration and production firms that make up much of their client base highly indebted.
For the pipeline MLPs, in particular, which rely on ready access to capital markets to fund payouts and growth targets, Kinder Morgan's move fits an unwelcome trend. Pipeline companies are touted as less-risky ways to play the energy boom, with long-term, fee-based contracts not beholden to swings in commodity prices. Yet weaker volumes being shipped through pipes can hit profits and expansion plans.
As Kinder said himself on Wednesday evening's call, his company may be "insulated" from commodity price movements but isn't "immune." Like the mysterious funding source, the pipeline giant's finely nuanced message leaves already nervous pipeline investors more uncertain than ever.
To contact the author of this story:
Liam Denning at ldenning1@bloomberg.net
To contact the editor responsible for this story:
Mark Gongloff at mgongloff1@bloomberg.net
Before it's here, it's on the Bloomberg Terminal.
LEARN MORE