Markets
Love Yourself Some 10-Years
Investors have come up with a Fed-proof scenario.
by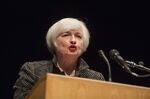 Federal Reserve members used to sound powerful when they talked and talked and talked. But bond traders are starting to zone out, in large part because what the Fed does and when it does it is starting to matter less.
The reason is an old standby that now works for all seasons. Investors are piling into U.S. government bonds, particularly those coming due within the next decade. Ten-year Treasuries have become the most expensive relative to other maturities in more than two years, Bloomberg News pointed out Thursday. Yields on the bonds have fallen to 2 percent from as high as 2.5 percent in June and an average of 4.4 percent in the five years leading up to 2008.

This may seem counterintuitive because the Fed has telegraphed that a rate increase is coming. Possibly maybe this year! Yields are going to rise! Bonds are doomed!
But debt investors' logic is actually sound. Even if the Fed does raise borrowing rates this year, the $13 trillion pile of U.S. Treasuries may continue to gain value. Here's why:
First, growth is pretty slow around the world, including the world's biggest economy. Any policy tightening will only slow it further and result in less appetite for risky assets, meaning more desire for coupon-delivering safe bonds.
Second, the European Central Bank made it clear Thursday that it's considering adding to its stimulus efforts, possibly lowering its already-negative deposit rate further. The U.S. and European bond markets are increasingly tied at the hip, with the correlation between 10-year Treasuries and German government bonds rising to the most since January this week.

In other words, the Fed has lost some of its ability to raise benchmark borrowing costs to its fellow central banks around the world, which are firmly in an easing cycle for the foreseeable future.
Third, if you listen to former Treasury Secretary Larry Summers or DoubleLine CEO Jeff Gundlach, there's a good chance that any Fed rate rise would be quickly followed by a rate cut. In this view, a rate increase would be viewed as a policy mistake, which would curtail long-term growth and inflation prospects. Steven Major, the fixed-income strategist at HSBC who was one off the few to predict last year's rally in Treasuries, foresees 10-year U.S. bond yields declining to 1.5 percent by the end of 2016.
And fourth, if the Fed decides against a rate increase, well, that means the party's still on! And it also means central bankers finally succumbed to the reality of low growth worldwide, which isn't particularly comforting for investing in more-speculative investments.
No doubt there will be some short-term turbulence in Treasuries given all the noise coming out of Washington and Frankfurt and Tokyo, but the direction of the borrowing benchmark is largely out of the Fed's hands -- and its bully pulpit.
To contact the author of this story:
Lisa Abramowicz at labramowicz@bloomberg.net
To contact the editor responsible for this story:
Daniel Niemi at dniemi1@bloomberg.net
Before it's here, it's on the Bloomberg Terminal.
LEARN MORE