2016 Elections
Benghazi Panel Isn't Even Politics. It's Entertainment.
The goal is to give right-wing media more chance to yammer about Clinton.
by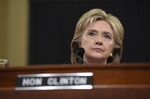 After watching Hillary Clinton's testimony Thursday morning to the House select committee investigating the 2012 attacks in Benghazi, I'm beginning to think I may have been wrong when I dubbed the inquiry the Committee to Perform Opposition Research for Republicans. Furthermore, Representative Kevin McCarthy also may have been wrong when he implied that the point of the panel was to harm Clinton.