Health Care
Hillary Clinton Doesn't Like Insurance Mergers. So What?
Her get-tough message on mega-mergers won't amount to much.
by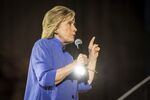 Don't worry so much, Wall Street: Hillary Clinton's criticism of health insurance mergers really amounts to little more than a helpful suggestion.

The Democratic presidential candidate on Wednesday called for close scrutiny of two mega-mergers set to take the U.S. managed care industry from five major providers to three -- Anthem's $50 billion bid for Cigna and Aetna's $37 billion takeover of Humana. The stock market quaked as if on cue: After Clinton's comments, the spreads for both deals at one point widened by roughly $9 apiece to more than $40. "Spread" is arbitrage code for the difference between a target's current share price and the value of the takeover bid. A wider spread signals doubt that the transaction will close.

Though they narrowed slightly as the afternoon went on, the Aetna/Humana spread stood at about  $39 at the close and Anthem/Cigna stood at around $40.