Trudeau's Ambition Meets Canada's Economy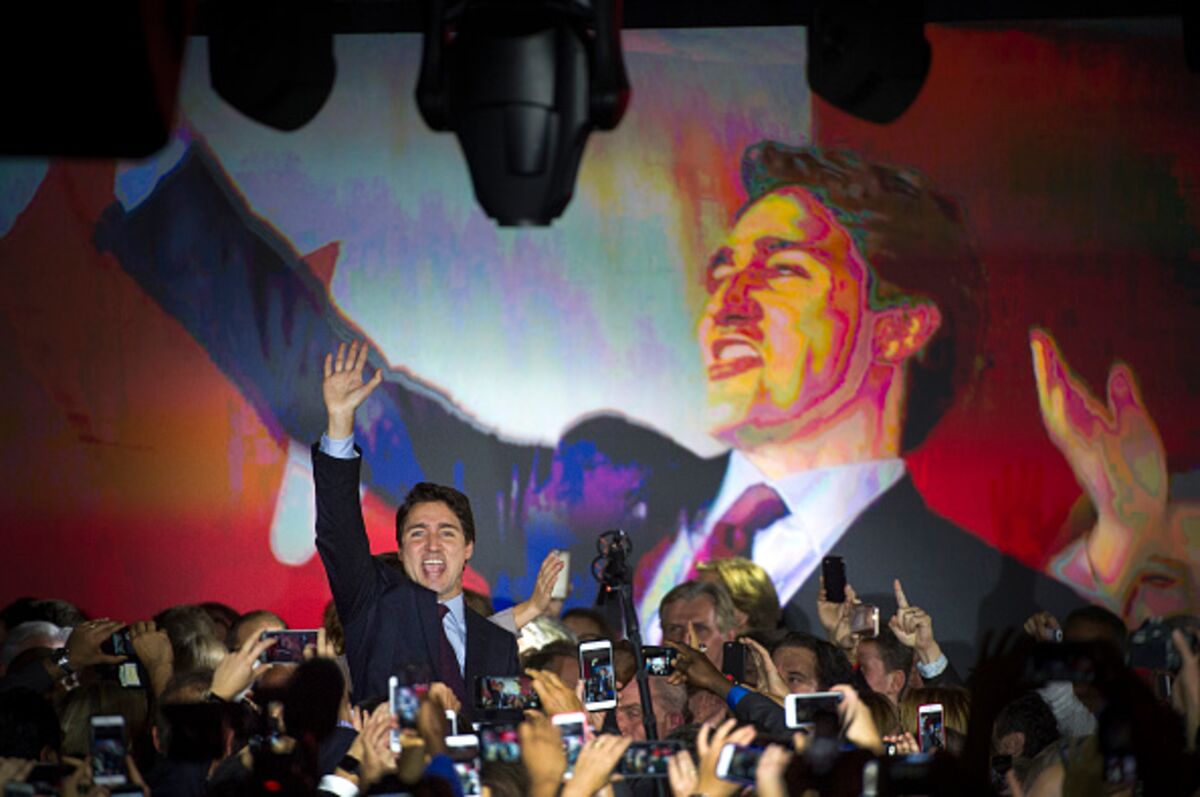 Photographer: Kevin Van Paassen/Bloomberg/Getty Images
Canada wants change. Voters have pushed Stephen Harper's Conservatives out and, for the first time since the election of 2000, have given the centrist Liberal Party, led by Justin Trudeau, a parliamentary majority. It's a surprisingly big win that puts pressure on the Liberals to deliver.
This won't be easy. Trudeau has promised a program of reform that's comprehensive to a fault -- touching on everything from legalizing marijuana to restoring "funding for Canada's four heavy urban search and rescue teams." But these expansive ambitions will have to contend with an unhelpful economy.
During the election campaign, Harper mocked the youthful Trudeau as unready to govern. The tactic failed, but the charge will be remembered if the economy worsens.
Canada came through the global economic crisis that began in 2008 relatively unscathed. Its banks were strong and domestic demand didn't falter. These advantages can no longer be taken for granted. Slow global growth and the collapse in energy prices have ended Canada's impressive run. With Canadians tired of austerity and looking for fast answers, the country stands at a dangerous juncture.
Slumping global commodity prices have hurt Canada's main export business. The economy shrank in the first two quarters of 2015. And in its new global economic forecasts, the International Monetary Fund has cut its growth projections for Canada more sharply than for any other major economy. It now expects Canada to grow only 1 percent this year.
The Liberals hope to address this partly by increasing public investment and relaxing efforts to contain public borrowing. This approach is defensible -- with interest rates so low, borrowing is cheap -- but Trudeau must move cautiously. A program that scares financial markets might easily push interest rates up. Canadians own houses with dangerously inflated valuations and have borrowed too much. With household debt standing at more than 160 percent of income, the economy is unusually vulnerable to interest-rate surprises.
What about Canada's alliances -- with the U.S., especially? Trudeau's position on climate change is more enlightened than his predecessor's. He's promised to restore his country's global standing on the issue (though he hasn't said very clearly how). His views on trade policy aren't so congenial, though. The Liberals have hesitated to back the Trans-Pacific Partnership trade pact, recently concluded after years of tortuous negotiations. The new government may also withdraw its support for military operations against Islamic State.
Trudeau's thinking on trade and foreign entanglements echoes the positions of many American Democrats -- but isn't guaranteed to restore warm relations with the U.S. government.
A failure to repair that friendship would be a shame, but it's unlikely to be Canadians' most pressing concern. Top on their list is reviving Canada's stuttering economy -- and, whether he likes it or not, that's how Canada's ambitious new leader will be judged.
To contact the senior editor responsible for Bloomberg View's editorials: David Shipley at davidshipley@bloomberg.net.