Editorial Board
Europe Should Back Renzi's Risorgimento
Italy's efforts at economic reform show signs of working.
by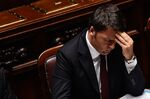 Italian prime minsters aren't generally known for their commitment to reform or longevity in office. Matteo Renzi has ambitions on both scores and, if the European Union gets out of his way, he may even have a chance of succeeding.
Renzi's new budget, heavy on tax reliefs and light on spending cuts, eases back on fiscal tightening and will arouse skepticism in Brussels. Critics who say his plans are insufficiently austere have a point: Italy needs to reduce its public-debt burden, which stands at more than 130 percent of gross domestic product. But the best way to lighten the load is to support growth. Renzi's efforts show signs of doing just that.
He took office in February 2014 promising faster reform. Mainly, he's kept his word. His Jobs Act has helped to liberalize labor markets, removing excessive job protections and giving businesses incentives to hire. The reform was passed over tough opposition from unions and members of his own party, but the results have been good. The new-style contracts seem to be creating jobs.
Renzi has confronted wasteful public spending too. He has auctioned a fleet of 1,500 cars including Maseratis, Jaguars, BMWs and Alfa Romeos that had been used to transport government officials. He's replaced the heads of some of Italy's largest state-owned companies. He's tackling constitutional reform, making it harder for the upper house of parliament to block legislation. And he's partially reformed the voting system with the aim of avoiding the gridlock that has paralyzed Italy for years. (That bill passed on a confidence vote, with critics likening him to Mussolini.)
The new budget isn't free of gimmicks. For instance, a cap on cash transactions, intended to discourage tax evasion, has been raised to 3,000 euros ($3,413) from 1,000 euros. The previous cap wasn't working (people could avoid it by making multiple payments) and the change is popular, but fiscally inconsequential. Also popular and of little moment is the plan to scrap a property tax on primary homes. It would have been better to further trim taxes on workers and investment.
However, these tweaks should be judged as part of Renzi's larger program of supply-side reform. And the most important thing is to understand that a forceful tightening of fiscal policy would be a mistake before the Italian economy has begun to revive more strongly. If the nascent expansion gets choked off, the debt burden will keep rising with or without fiscal restraint.  
After three consecutive years of shrinking GDP, Italy is growing again, though barely. An expansion of just under 1 percent is likely in 2015, and a little more than that next year is expected, all being well. What matters most is maintaining and improving this momentum.
Renzi has a lot of work yet to do. Labour markets, despite his reforms, are still too rigid. The shadow economy is still too big, thanks to Italy's byzantine laws and their uneven application by the courts. Weak investment -- especially in roads, hospitals and other essential infrastructure -- is partly due to an overweening bureaucracy that continues to hold the country back.
Nonetheless, Renzi has made a start, and has already achieved more than many of his predecessors. In these efforts, he deserves Europe's support.
--Editors: Therese Raphael, Clive Crook
To contact the senior editor responsible for Bloomberg View's editorials: David Shipley at davidshipley@bloomberg.net .
Before it's here, it's on the Bloomberg Terminal.
LEARN MORE