Media
Cable Cord Is Frayed Yet Strong
by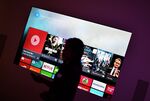 Cable companies are expected to lose 300,000 U.S. pay-TV subscribers this quarter after losing 600,000 in the previous quarter. That sounds bad. At the same time, Netflix announced an increase of 880,000 net customers in the U.S. in its most recent quarter. Dire warnings have been issued for cable companies. But for now they still have 100 million customers, and most of them have chosen to add streaming services instead of switching outright. For those cable companies that do lose pay TV customers, they often have the consolation of providing them with Internet access, though obviously at a lower price. 

To contact the author of this story:
Rani Molla at rmolla2@bloomberg.net
To contact the editor responsible for this story:
Daniel Niemi at dniemi1@bloomberg.net
Before it's here, it's on the Bloomberg Terminal.
LEARN MORE