Editorial Board
Don't Ban Fantasy Sports. Regulate Them.
Like any other kind of gambling, daily fantasy sites need rules to keep them honest.
by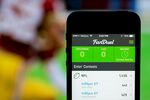 In the past few weeks, the fantasy sports business learned it was facing an FBI probe, an investigation in New York, a ban in Nevada, inquiries from Congress, multiple lawsuits, and a raft of alarming questions about the misuse of confidential data. It also had its most prosperous weekend ever.
That's a paradox familiar to enthusiasts of slot machines and lotteries: Gambling is treacherous, and it's also fun. Daily fantasy sports -- clearly a form of gambling, despite what practitioners say -- are no exception. They should be subject to oversight just as other legal forms of wagering are. Regulators should ensure that the games are run transparently and with integrity. And then gamblers should be free to lose money on them fair and square.
The now-booming websites -- such as DraftKings and FanDuel, on which contestants pay to select a roster of players and earn points based on their real-life performance -- owe their existence to a loophole. The Unlawful Internet Gambling Enforcement Act, passed by Congress in 2006, banned most online gambling but carved out an exemption for fantasy sports sites. At the time, such sites typically allowed players to assemble teams and compete over the course of a season. The daily version -- which started in 2009, and more closely resembles traditional gambling -- exploits this exemption.
As a result, the industry is conducting an inadvertent experiment in legalized sports gambling -- one that should now inform a larger debate. After all, perceptions of sports gambling are evolving. Most voters support legalizing it, and at least six states are mulling legislation on the topic. Even NBA Commissioner Adam Silver wants to legalize it.
The fantasy experiment that Congress has unintentionally enabled should help determine if that's a good idea. But it will work only if regulators -- state and federal -- put some sensible rules in place to protect consumers. 
Proprietors of daily fantasy sites should be licensed and regulated much as casinos are, to ensure their operations are transparent. The technology they use -- including algorithms that determine the "price" of each player -- should be subject to audits. So should their safeguards against fraud and the misuse of inside information by employees. Geolocation tools, which can block players in states that prefer to outlaw the contests, should be mandatory. And rules about what technology players can deploy to their advantage should be spelled out more clearly. Actually, pretty much everything these sites do should be spelled out more clearly.
More important, the companies should be required to take measures to protect gambling addicts from themselves. Because they operate online, with payment information linked to each user, they should be able to verify identities, enforce limits on losses and use data patterns to recognize problem gamblers. State regulators could mandate other protective measures based on the National Council on Problem Gambling's standards. And fantasy advertising during sports broadcasts -- an enticement to children and addicts alike -- should be banned.
Which raises a final, crucial problem: the unholy financial alliance between these sites and professional sports leagues. As a matter of common sense, Congress should bar leagues from investing in fantasy gambling sites, displaying their ads or having any other business relationship with them.
Even with such precautions in place, fantasy sports gambling may boost rates of addiction and related ills. And the riches at stake may begin to corrupt real-life sports. Policy makers should be alert to these dangers, and proceed with caution. That's pretty good advice for gamblers, too.