Canada's Election Matters More Than You Think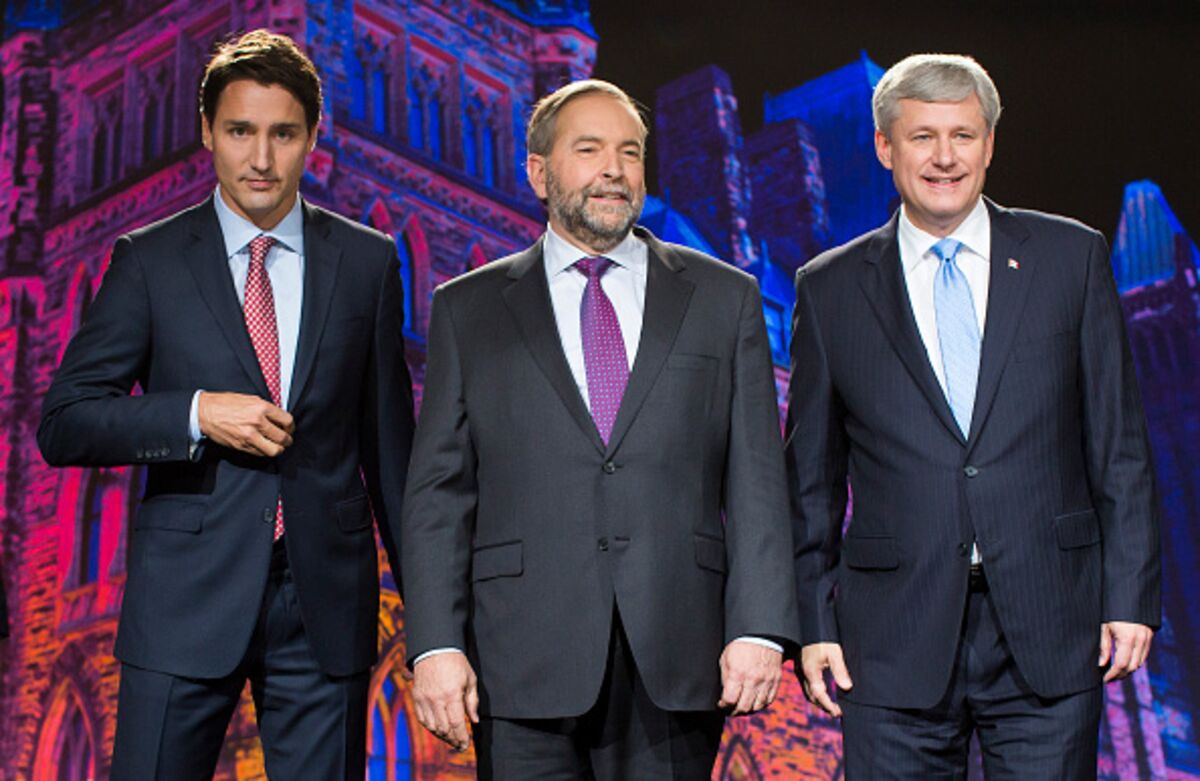 Not as similar as they look.
Photographer: Ben Nelms/Bloomberg
When Canadians cast their votes in Monday's federal election, more is at stake than you might realize -- and not just for Canada. At home, a distinctive and mostly successful approach to politics is under stress. Abroad, Canada's contribution to good government around the world is increasingly in doubt.
Canadians often complain that they get too little of the world's attention. They're right. What's happening there is cause for concern.
Canada has long served as a model for good government and innovative social policies. Decades before Obamacare, it showed that universal health care could succeed in a country very like the U.S. Its approach to affordable higher education, family leave and immigration offered lessons to the rest of the world.
Under Prime Minister Stephen Harper's Conservative government, this commitment to social progress has wavered, and the focus has narrowed too much to cutting taxes. Worse, the tolerance that marked Canada's approach to immigrants is faltering, and the government has pandered to rising anti-immigrant sentiment. Lately it has made an election issue of whether Muslim women should bare their faces while taking their oath of citizenship, or even while working as civil servants. At the moment, the Canadian model no longer looks so appealing.
Canada is no longer such a good global citizen, either. Six weeks after the vote, negotiators will gather in Paris to seek a new agreement on cutting greenhouse-gas emissions. Canada's commitment to this effort is weak. That gives developing countries, whose cooperation is vital, an excuse for avoiding strong measures of their own. Both opposition parties -- the centrist Liberals and the socialist New Democratic Party -- have rightly pledged to try harder.
Harper's government has been correct about some things. It has been an ardent proponent of the Trans-Pacific Partnership trade deal. The Conservatives have risked their support in parts of rural Canada by exposing more of the country's cloistered dairy market to lower-priced imports. The Liberals have expressed hesitation about the deal; the NDP has promised to pull out of it. A Canadian decision to quit the pact could strengthen resistance to it in the U.S.
Monday's vote could also affect the campaign against Islamic State. Canadian troops have been fighting the group in Iraq since at least January; in April, its jets began bombing targets in Syria. NDP leader Tom Mulcair says he'd pull Canadian forces out. Liberal leader Justin Trudeau's position is similar. A Canadian withdrawal would weaken the alliance against ISIS just as Russia is deepening its involvement in the Syrian crisis.
No party offers voters, or Canada's friends abroad, the right answers on all of these questions. Whatever happens on Monday, there'll be grounds for complaint at home and abroad. One way or another, though, it's an election that matters.
To contact the senior editor responsible for Bloomberg View's editorials: David Shipley at davidshipley@bloomberg.net.