view
Coal's Unlikely Champion? A Jersey Health Lawyer
How Patrick Morrisey wound up leading the fight against the EPA.
by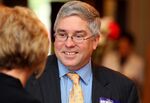 Patrick Morrisey, the leader of the fight against President Barack Obama's plan to cut carbon emissions from power plants, has an affinity for long-shot campaigns. He's also gotten better at winning them.
In 2000, Morrisey, then a 32-year-old health-care lawyer, had just left his job with the House Energy and Commerce Committee to run for the Republican nomination in New Jersey's 7th congressional district. His chances were not good: The other candidates had better name recognition and more money, according to Joel Weingarten, one of Morrisey's opponents. And despite growing up in nearby Edison, Morrisey had moved to Washington six years earlier, branding him an outsider. "It was hard, coming from D.C.," said Chuck Clapton, a friend from the committee who volunteered on the campaign.
To top it all off, Morrisey was nice: "A very affable, sincere fella," said Weingarten, calling Morrisey more inclined to talk about the details of Medicare policy than to grandstand. "Not somebody who was political in the pejorative sense."
Morrisey didn't just lose; he came in fourth, with 9 percent of the vote. It didn't turn him off politics. In 2012, he embarked on what may have seemed like another long-shot campaign: quitting his job as partner at King & Spalding, a prestigious international law firm, to run against a five-term attorney general in West Virginia -- a state he wasn't from, for an office no Republican had won since 1928. 
But Morrisey had learned the lessons of his first race. Six years earlier, he had bought a home in Harpers Ferry, a 90-minute commute to his Washington office, getting involved in local Republican politics and insulating himself against Democrats' inevitable accusations of carpetbagging. Instead of focusing on policy, Morrisey built his campaign on his opponent's perceived ethical failings and public animosity to Obama. He spent $1.5 million of his own money -- six times what his opponent raised, to win a job that pays $95,000 annually. He captured 51 percent of the vote, in a year when Democrats took every other major statewide office.
"Was it a ballsy decision? Absolutely," Clapton told me. "Knowing Pat, I'm not surprised."
Expect to hear more about Patrick Morrisey. After the U.S. Environmental Protection Agency proposed regulations in June 2014 to cut power plants' carbon dioxide emissions 30 percent by 2030, compared with 2005 levels, 12 states filed a brief with the D.C. Circuit Court of Appeals, arguing the agency had exceeded its authority under the Clean Air Act. But it was Morrisey's office that wrote the brief, and those that followed. Once the final rules get published, as soon as this month, the legal fight will begin in earnest -- and Morrisey's office, more than any other, will be the one to plan and execute that fight. 
It's easy to dismiss those challenges as the work of state officials seeking political gain by opposing policies their voters don't like, regardless of the legal merits. Morrisey himself has played into that perception: In 2013, he said at a town hall event that his goal was to "gum up the courts enough over the course of the next four years to be able to slow down the Obama administration on these regulations."
But Morrisey's strategy is neither publicity stunt nor legal Hail Mary. The case against the EPA's power-plant rules can be boiled down to two arguments about the constraints of the Clean Air Act. The first holds that the law only allows the agency to regulate emissions from a particular power plant, rather than impose statewide limits. The second and more technical argument says the agency can't regulate power plants' carbon emissions under the section of the law it relies on, because other emissions from those plants are already regulated under another section. 
The chances of those arguments prevailing in court are hard to predict; the Obamacare lawsuits also looked questionable, at least to the law's supporters, until the Supreme Court agreed to hear them. Another way to gauge the strength of the challenges led by Morrisey's office is to look at the qualifications of the people writing them: two former Supreme Court clerks, who Morrisey recruited as his solicitor general and general counsel.
But ultimately, if the effort succeeds in blocking the EPA's rules, part of the reason will be Morrisey himself. His former colleagues call him dogged: After his defeat in New Jersey, Morrisey went back to the Energy and Commerce Committee, where as chief health counsel he shepherded the 2002 bioterrorism law, and then legislation that created a prescription drug benefit in Medicare. One fellow staffer told me Morrisey worked 16-hour days, even during recess.  
"Medicare Part D and bioterrorism -- making those happen is no easy feat," said Mark Paoletta, who was the committee's chief oversight counsel at the time. "Being the lead counsel on it, you get to rightfully take a lot of the credit."
None of the former colleagues I spoke with recalled Morrisey expressing any interest in energy regulation or climate policy. That area was outside his focus on the committee; while at King & Spalding, he helped run the office's Food and Drug Administration practice. And his background in health-care policy makes Morrisey an unlikely champion of coal: The EPA says its rules will prevent as many as 90,000 asthma attacks, 300,000 sick days and 3,600 premature deaths. 
People who know Morrisey said his fight against the power plant rules reflects their impact on West Virginia's economy. "It certainly seems to be a natural, given the impact of coal on jobs," David Marventano, Morrisey's boss on the Energy and Commerce Committee, told me. 
In conversation, Morrisey is the epitome of modesty. He said he only ran because nobody else would. "I spent a good part of 2011 trying to recruit people to run for attorney general," Morrisey told me by phone at the end of September. "When I was unable to find the right candidate to step forward, I thought it was critical that I do that." 
He also downplayed his prominence in the EPA lawsuit, for which his office is chief plaintiff and his solicitor general is the counsel of record. ("This is a team effort by state AGs.") And he portrayed his EPA challenge as simply an attorney general trying to uphold the law. ("My job is just to ensure that legal processes occur.")
Yet Morrisey made clear his opposition is political too. He described the rule as "one of the most radical and far-reaching regulations in our lifetime" and "Obamacare on steroids for the energy community." He called his office's odds of prevailing "quite good."
It will be years before the accuracy of that last statement is known. But the EPA and its supporters should probably still worry. "You will never find anyone who will work harder than Pat," Clapton said. And Morrisey has beaten longer odds than these.    
To contact the author of this story:
Christopher Flavelle at cflavelle@bloomberg.net
To contact the editor responsible for this story:
Zara Kessler at zkessler@bloomberg.net
Before it's here, it's on the Bloomberg Terminal.
LEARN MORE