Editorial Board
Obama Buys Time in Afghanistan
A complete U.S. withdrawal depends on a lasting political settlement.
by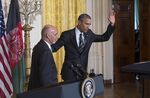 President Barack Obama's decision to keep almost 10,000 U.S. forces in Afghanistan for at least another year may help Afghan security forces better contain a resurgent Taliban. But it doesn't change the most fundamental fact about Afghanistan: There is no military solution to its long-running conflict at a price the U.S. is willing to pay.
Obama's decision is a reversal of the administration's policy of reducing the number of U.S. forces to 1,000 by 2017. But to judge the decision by its impact on Obama's credibility is to take too narrow a view. The best yardstick by which to judge the change is whether it will help the Afghan government make peace with the Taliban from a position of strength.
Here, the picture is mixed. There's no doubt that extending the training mission will bolster Afghanistan's struggling security forces. But the troops need to be able to do more. The rules of engagement for U.S. forces remain fuzzy. As politically unpalatable as it may be, Afghan combat units need U.S. advisers with them in the field, and much more robust air support.
It's true that extending the U.S. mission could also buttress Afghanistan's government, which is sorely divided and losing legitimacy. It has yet to schedule parliamentary elections, and that delay is also holding up the national council that must approve the jury-rigged power-sharing arrangement between President Ashraf Ghani and Chief Executive Officer Abdullah Abdullah. The U.S. and other members of the 42-nation coalition in Afghanistan need to drive home the point that no amount of military assistance can remedy such political dysfunction.
Many of Afghanistan's neighbors may be reassured by a more stable U.S. presence. Yet that benefit, too, will be squandered if the U.S. also does not redouble its diplomatic efforts to push the Taliban out of its havens in Pakistan and back to the negotiating table. Obama has said he will press Pakistan's Prime Minister Nawaz Sharif on this when he comes to Washington next week. China and Saudi Arabia can also help, as can other less savory regional players such as Russia and Iran. 
The Taliban, emboldened by its assault on Kunduz, called Thursday for renewed negotiations. But its depredations, especially against women in Kunduz, sparked anger and revulsion. Its recent successes have now lengthened the U.S. presence -- the outcome it least wanted.
No one in Afghanistan -- including the U.S. -- wants an extended presence of U.S. and foreign troops. But a complete withdrawal, as Obama noted, depends on a lasting political settlement.
-- James Gibney, Michael Newman.
To contact the senior editor responsible for Bloomberg View's editorials: David Shipley at davidshipley@bloomberg.net .
Before it's here, it's on the Bloomberg Terminal.
LEARN MORE