Let All the Candidates Debate, Democrats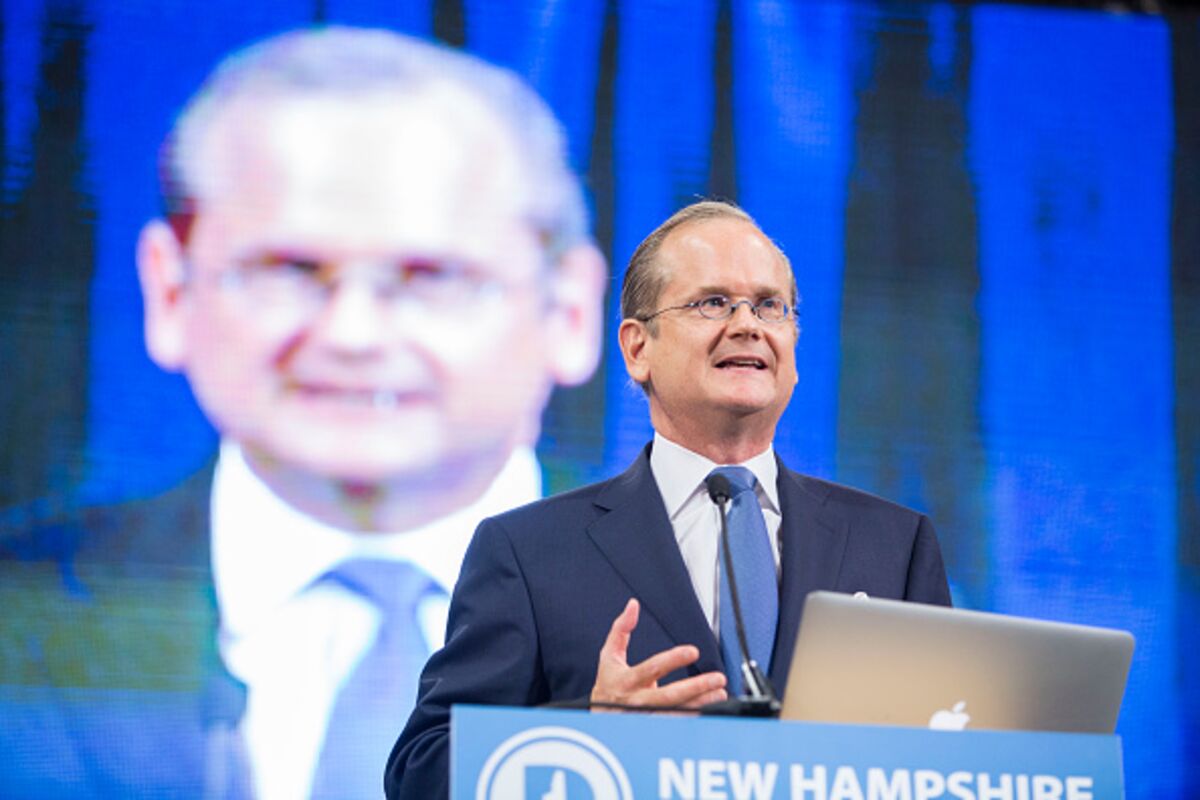 Photographer: Scott Eisen/Getty Images
Say what you will about Larry Lessig's presidential bid -- and his campaign makes Quixote look like Machiavelli -- the last candidate in the race has a point: He deserves to be on stage for the Democratic Party's first debate Tuesday evening.
Before setting the eligibility criteria for the debates, Democratic National Committee Chair Debbie Wasserman Schultz pledged to strive for "maximum inclusion." True to her word, the party set a how-low-can-you-go threshold for participation of at least 1 percent in three national polls.
That seemed tailor-made for the party's three dark horses challenging front-runners Hillary Clinton and Bernie Sanders: Lincoln Chafee, Martin O'Malley and Jim Webb. All met it, though just barely: Each is averaging less than 1 percent, and Chafee may have received a boost from Conan O'Brien's "Let's Get Lincoln Chafee To 1%" campaign.
Lessig, a Harvard law professor, has only recently been included in the national polls, and he hit 1 percent in only one. And so, even though he's within the margin of error, he's out.
Lessig may be a gadfly, but he has a base of support. In just one month, he's raised more than $1 million from 8,000 donors. Compare that with Chafee, who brought in $29,000 over the first six months of the year. Lessig has raised enough money to qualify for public matching funds -- and if the public is going to pay for his campaign, the public ought to be able to see him on the stage.
Lessig has one other qualification going for him: Unlike Sanders, he's actually a Democrat. And no matter how far-fetched his candidacy is, he's right to demand his party take a more democratic approach to the debates.
After voters begin casting ballots and the campaign moves beyond the early states, it may be fair for party organizations to begin excluding the worst-performing candidates from debates. Party leaders have an understandable interest in winnowing the field and putting the spotlight on its leading contenders. But this is the first debate of the season, more than three months before the Iowa caucus. Voters ought to be able to see and hear the full field engaging with one another.
By excluding Lessig, the DNC is doing a disservice to its party members. One of the purposes of primary debates is to give voters the opportunity to see and hear candidates who have struggled to distinguish themselves. Carly Fiorina would have been shut out of the first Republican debate had an undercard not been put together at the last minute. Thanks largely to her performance in that debate and the one following it, she has gone from 1 percent to trailing only Donald Trump and Ben Carson.
It's highly unlikely Lessig is capable of such a jump, given his bizarre plan to resign the presidency if Congress enacts his election reform plan. But that decision should be up to voters, not the DNC. At least for now.
To contact the senior editor responsible for Bloomberg View's editorials: David Shipley at davidshipley@bloomberg.net.