It's the Economy, Putin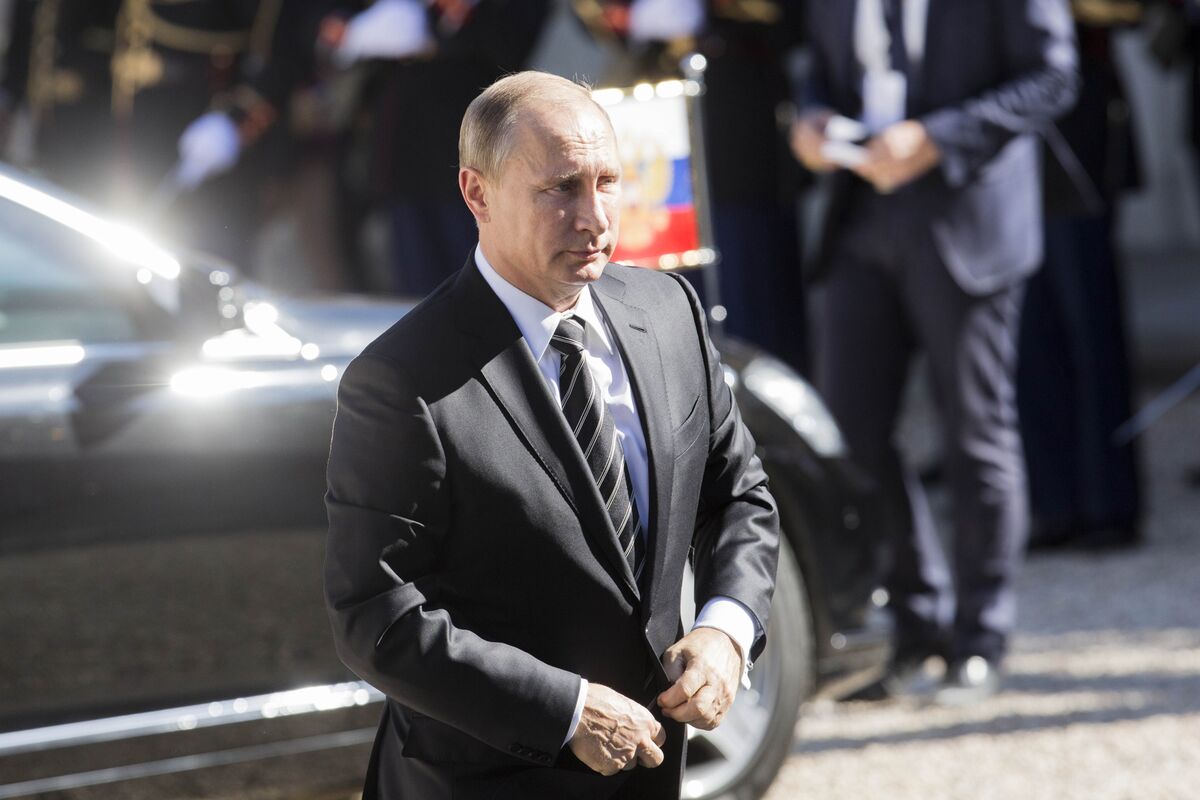 Heading in the wrong direction.
Photographer: Christophe Morin/Bloomberg
Russian President Vladimir Putin's renascent cold war with the West is partly meant to obscure his country's economic slump. It's a reckless strategy -- not least because it's making the slump worse. The consequences for Putin and for global security could be dire.
Sending troops into Ukraine in the spring of 2014 was a major change in Putin's political calculus. Instead of promising Russians prosperity in return for accepting his unchallenged authority, he'd appeal to nationalist fervor. The shift drew attention away from his economic mismanagement, rampant cronyism and failure to reduce the country's dependence on exports of oil and gas. Supported by with-us-or-against-us propaganda, it also provided cover for harsher persecution of his critics.
Now, the repercussions are becoming apparent. Without the support of high oil prices and hampered by Western sanctions, Russia is headed into a recession deeper than the U.S. experienced in 2009. Though the official unemployment rate remains low, other indicators suggest that hidden joblessness -- including people going to work and not getting paid -- is on the rise. Wage arrears were up 29 percent in September from a year earlier, according to the Federal Statistics Service.
Next year's budget will be a problem. Starved of revenue, the government faces tough choices as it seeks to balance the interests of pensioners, state workers and the military.
If the downturn proves temporary, Putin is well-placed to ride it out. His approval rating exceeds 80 percent. Increasingly, though, the evidence suggests that he has done longer-term damage. His grip on the economy may be strangling the dynamism and entrepreneurship that Russia needs to recover.
Consider the response of food and automobile producers to last year's devaluation of the ruble and ban on Western imports. Those businesses should have boomed, stealing market share from foreign competitors -- as they did after the ruble crash of 1998. This time is different. Output of food, beverages and tobacco was up only 0.4 percent in August from a year earlier, according to data compiled by Bloomberg. Auto production was down 28 percent.
Investment is down, too. In the second quarter, it fell 8.4 percent from a year earlier, the sharpest drop since 2009. That makes it hard to see where a strong recovery might come from. Economists expect growth to remain anemic through 2017.
Russians' resilience is hard to exaggerate, especially when patriotism is invoked. At some point, though, a failing economy will implicate the country's leadership. That's dangerous, because the means for an orderly change aren't in place. What comes after Putin isn't clear -- and it might not be better, for Russia or for the West.
For everybody's sake, the Kremlin needs to change course, get sanctions lifted and act on economic reform. Otherwise, Russia and its neighbors had better brace themselves.
To contact the senior editor responsible for Bloomberg View's editorials: David Shipley at davidshipley@bloomberg.net.