Economics
Bank of England Dissenter Will Have to Relent
A rate cut is starting to look more likely than an increase.
by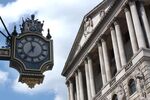 I feel sorry for Ian McCafferty. From August to December 2014, the Bank of England policy maker voted five times to raise interest rates by a quarter-point, before the nonexistence of any inflationary pressures drove him back to the majority view for no change. In August of this year, with the British economy coming alive, he again donned his hawkish hat -- just as the evidence started to come in that the global economic recovery was starting to falter. Thursday marks his third consecutive vote for higher borrowing costs; I'm willing to bet he'll have to do another U-turn the next time the U.K. central bank meets.
The Bank of England on Thursday kept its key interest rate on hold at 0.5 percent, where it's been since March 2009. The vote was 8-1, with McCafferty the only dissenter. At least last year he had company, with fellow Monetary Policy Committee member Martin Weale supporting the call for tighter policy. I can see that it would be hard to turn tail just two months after you first called the turn in interest rates, but the current inflation backdrop strongly suggests McCafferty will be considering his position between now and the next meeting on Nov. 5:
It's the outlook for inflation that matters for central bankers, and there are very few economists expecting consumer prices to start accelerating at the Bank of England's 2 percent target pace anytime soon. The bank itself said price growth "now appeared likely to remain below 1 percent until spring 2016."
Inflation has consistently undershot consensus expectations, as this chart shows:

At the very end of today's statement, there's what looks to my eyes like an incredibly dovish statement: "When Bank Rate does begin to rise, it is expected to do so more gradually and to a lower level than in recent cycles." Now, that's not new, but if you look at previous tightening cycles, (a) they weren't exactly speedy, and (b) they didn't exactly send rates to stratospheric levels:

The most depressing part of the statement was a comment suggesting that almost a decade on, the credit crunch is still whacking the global economy, with a reference to "the likely persistence of the headwinds restraining economic growth following the financial crisis." It's 2015, and the crisis is still hobbling global growth. It's almost enough to make you question whether quantitative easing works.
So, I'm willing to bet a beer that no one at the Bank of England will be voting for higher rates next month. But as my Bloomberg First Word colleague Richard Jones says, the November vote may still come out at 8-1 even if McCafferty does relent -- but with Chief Economist Andy Haldane voting to cut interest rates. 
This column does not necessarily reflect the opinion of the editorial board or Bloomberg LP and its owners.