Investing
Glencore Gets Clobbered. Who's Next?
Bankruptcies among producers and consolidation will accelerate.
by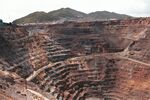 As commodity prices continue to fall, bankruptcies among producers and industry consolidation will no doubt accelerate.  Suppliers of farm, mining and construction equipment are already troubled. With this onslaught, it's no surprise that Glencore, the huge Swiss company that dominates global commodities markets, lost a third of its value in a single day last week.