Sports
C.C. Sabathia, Josh Hamilton and the Road to Redemption
Why do we show empathy for some athletes and give up on others?
by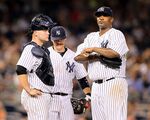 The New York Yankees will head into the playoffs down a man. A day before the team was set to take on the Houston Astros in the Wild Card play-in game Tuesday night in the Bronx, pitcher C.C. Sabathia announced he would miss the postseason after checking himself into rehab for alcohol addiction.
As a lifelong Yankee fan, I'm proud that Sabathia's seeking treatment, even with the playoffs around the corner. Any conversation about the loss of Sabathia on the mound reflects the kind of skewed priorities that underlie almost every major sports scandal, from substance abuse to violence against women to whatever's going on with international soccer. Too often, we place sports above what's really important, and in Sabathia's case, that's getting healthy and working through his addiction with his family. 
Fortunately, most of the reaction I've seen to Sabathia's announcement has been generally supportive -- starting first and foremost with his team. At a press conference Monday afternoon, Yankees general manager Brian Cashman stated unequivocally, "We will do everything in our power to support C.C." He called Sabathia a "tremendous person" and praised him for getting the help he needs despite the Yankees' October hunt.
"C.C. has demonstrated a great deal of courage to tackle this problem. Time and place have no bearing," he said. And he stated in no uncertain terms that Sabathia's decision is more important than baseball: "What C.C.'s dealing with is a life issue. It's bigger than the game we have tomorrow night."
Everyone from ex-Met and Yankee Darryl Strawberry to ESPN's Stephen A. Smith to Larry King has issued messages of love and support for Sabathia. "I don't even care about baseball, this is about life," said Strawberry, a former addict himself. Even the New York Post, no stranger to sensationalized headlines and athlete beef, acknowledged the loss the Yankees will feel without Sabathia but ultimately concluded his addiction to be "big-picture and most important." He's earned that level of respect by being a clubhouse leader and a gamer on the field, willing to pitch to his limits or come out of the bullpen if need be.
And it's exactly that respect that can explain the wildly differing treatment Sabathia is getting from his team and fans than outfielder Josh Hamilton received for his most recent relapse. That is, respect and millions of dollars. After Hamilton, a former drug addict, notified Major League Baseball that he had taken cocaine, the Los Angeles Angels, his team at the time, didn't just fail to show him support -- they pushed for the league to suspend him under its drug policy. The Angels released statements expressing "serious concerns" about his conduct and shamed him for having "broken an important commitment which he made to himself, his family, his teammates, and his fans." No doubt, they also had serious concerns about the $23 million they owed him for this season after MLB decided not to suspend him.
The Yankees aren't exactly innocent of using financial considerations and bad blood to trash a player. The team treated Alex Rodriguez like a cartoon villain, downplaying achievements including his 660th home run and 3000th hit. It's hard not to think this was at least in part because those milestones carried incentive bonuses worth millions of dollars. Eventually, the Yankees ultimately accepted Rodriguez's redemption and his putting the steroid scandal behind him, after fans started to warm up to him and his offensive production again. But they tried everything they could to get out of his contract, including negative press.
One major difference is Rodriguez had lied about his use of performance-enhancing drugs before the Yankees signed him to a contract, while the Angels knew exactly what they were getting in Hamilton, whose drug and alcohol problems have been highly publicized since he was the No. 1 pick in the 1999 draft. But the main dissimilarity comes back to this issue of respect and of empathy for a problem that's about much more than poor judgment or behavioral problems or inflated athlete egos. Addiction is a disease, not a loophole through which to find an easy out from a contract you now regret. The structure, discipline and support network that should go along with being a part of a professional sports team can do wonders to help someone out of addiction -- far more than shutting him out. And a player shouldn't have to be a role model like Sabathia to deserve such understanding. 
Aside from a brawl outside a nightclub in Toronto, there's been little chatter about Sabathia's private life. He seemingly has a happy marriage, great kids, he's always friendly to reporters and he stays out of trouble with the law. That's your formula for earning the benefit of the doubt if and when you do find yourself in some trouble. (To see this strategy in action, consider the earlier treatment of Rodriguez as the team prepared to celebrate "Andy Pettitte Day" at Yankee Stadium, honoring the former pitcher who admitted to taking performance-enhancing drugs.)
But Hamilton's never been a role model since he broke into the majors, and he's a repeat offender. So was Strawberry, who was suspended three times for substance abuse, costing him more than one job and ultimately forcing his retirement. He, too, has since found redemption, using his long struggle with cocaine and alcohol to inspire others to work through addiction. But that's no thanks to a baseball press and public that easily wrote him off. 
Nowhere is that attitude more evident in the commentary surrounding embattled Cleveland Browns receiver Josh Gordon. Gordon, too, has been suspended three times and is currently serving a minimum year-long penalty for failing yet another substance abuse test. Gordon has been cast as the cautionary tale for players succumbing to the excesses of athlete life, because of poor upbringing or weak moral fiber or whatever. Gordon insists he isn't an addict, and anybody who isn't a medical professional is in no position to disagree. But many did and still do, and as such, I have to ask what would lead a certain pundit who thinks he's an addict to declare, "I'm done with Josh Gordon," while now urging Sabathia to "keep your head up" and "keep pushing."
In both cases, as with Hamilton and Strawberry, the player's handling of his substance issues are used to justify how we already feel about him. His path to redemption is either aided or obfuscated by our own pre-judgments. Sabathia displayed immense courage in his announcement Monday, and he deserves the empathy he is getting. Let's extend such understanding to those addicts who haven't always done everything right.
This column does not necessarily reflect the opinion of the editorial board or Bloomberg LP and its owners.