Middle East
For EU Turkey Agenda: Free Speech
President Erdogan is on a campaign tour of Europe, where he must be called out for suppressing free speech.
by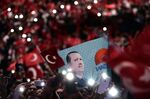 Turkish President Recep Tayyip Erdogan is in Brussels this week with a big agenda to discuss, from the torrent of refugees leaving his country for Europe, to Russia's entry into the Syrian war. Europe and Turkey need each other on these issues, but as awkward as it will be, Erdogan must also be pressed to end his suppression of free speech.
In the first six months of this year, Turkey made almost 60 percent of all requests to Twitter to take down posts -- worldwide. That was more than 10 times as many as Russia. In the first three months of this year alone, Turkey ordered more than 6,000 Internet websites blocked. Dozens more journalists have lost their jobs after the government complained to media owners about their coverage, while Turkey remains one of the countries most likely to jail journalists. As snap elections on Nov. 1 approach, this situation is getting worse.
Last week, Ahmet Hakan, arguably Turkey's most popular political columnist and TV personality (how many journalists anywhere can boast 3.6 million Twitter followers?) was severely beaten in front of his home by four men, three of whom were members of Erdogan's ruling Justice and Development Party, or AKP.
There is no evidence that either Erdogan or his party ordered the assault -- indeed on Friday the AKP expelled the three attackers associated with it. Yet they have created a political environment that encourages the hounding of journalists. Hakan's beating followed two attacks on the offices of his newspaper, Hurriyet last month, one of which was led by an AKP legislator later filmed telling a group of young men the only mistake made had been not to beat Hakan and Hurriyet's editor-in-chief, Sedat Ergin.
The day before Hakan's beating, Erdogan himself threw fuel onto the fire by repeating an accusation against Aydin Dogan, founder of the opposition media group which owns Hurriyet, that he had manipulated governments until the AKP came to power in 2002. As a matter of history, Dogan was not the champion of journalistic integrity and independence that he claims, back when Turkey's secularists used to discriminate against Islamists such as Erdogan. Yet the timing and context of the charge made it irresponsible.
Erdogan's approach to the media is hardly unique to him. On Monday, Prime Minister Ahmet Davutoglu on Monday criticized those who had shared on Twitter a photograph of a Turkish security force vehicle dragging the corpse of a dead Kurdish militant through the streets of the town of Sirnak. "Required legal and administrative instructions have been given about this incident," he said. The Interior Ministry is also investigating the appalling crime itself, but to focus on the picture at all is both absurd and telling.
Freedom House is just one of several organizations tracking media freedom around the world that have noted a sharp deterioration in Turkey in recent years:
This is particularly unfortunate given Erdogan's liberalizing role during the first few years of his rule. As an emerging economy, Turkey has huge potential, but only if it moves beyond the efficient assembly economy it has built to add higher value -- and that means nurturing new technologies and the open environment in which they flourish.
Nor will Turkey's role as a NATO ally or its integration with the EU strengthen so long as the government continues to suppress media freedoms and other institutions of democracy. Erdogan pushed against the constraints of Turkey's Western alliances in recent years, but he too may begin to appreciate their value as Russia carries out airstrikes against Turkish allies in Syria, just over the border.
The EU deserves a portion of the blame for this state of affairs -- it threw away most of its influence with Turkey by effectively freezing the mainly Muslim nation's negotiations to join the bloc, in 2006. Nor does Erdogan respond well to lectures. Western leaders, however, should not be shy to deliver the uncomfortable messages, not least because there is a domestic, Turkish audience for them right now.
This trip to Europe is first and foremost a campaign event for the Nov. 1 election, which Erdogan called after a June vote failed to secure the majority he wanted for the AKP. The pictures of adoring Turkish emigres meeting Erdogan in Brussels and Strasbourg (where supporters hired a large-capacity venue for Sunday's 12,000-strong crowd) makes great campaign footage for Turkey's pro-government media to broadcast home.
Glad-handing poses with Europe's leaders will work for the campaign too, and that's fine. But if Erdogan is to use Europe for political ends, he cannot complain if its leaders refuse to follow his script. Turks need to hear from the rest of the world -- again and again -- that the crushing of opposition voices and independent media is utterly destructive to their democracy, as it will be to any remaining desire they may have to integrate with Europe.
This column does not necessarily reflect the opinion of the editorial board or Bloomberg LP and its owners.
To contact the author of this story:
Marc Champion at mchampion7@bloomberg.net
To contact the editor responsible for this story:
Therese Raphael at traphael4@bloomberg.net
Before it's here, it's on the Bloomberg Terminal.
LEARN MORE