Editorial Board
Game Over for 'Three Strikes' Law?
A new Senate bill won't end mass incarceration -- but it's a start.
by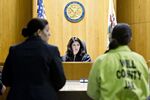 More than two decades after signing the (in)famous "Three Strikes and You're Out" crime bill into law, even Bill Clinton has regrets. So do a growing number of liberals and conservatives who believe that federal sentences are too long and ensnare too many minor actors. Now senators are moving to roll them back -- sort of.