Editorial Board
What Does a Central Banker Know About Climate Change?
Society's response to global warming can affect financial stability.
by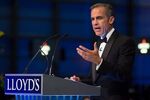 Bank of England Governor Mark Carney startled some people this week, when he gave a speech drawing attention to the risks that climate change poses to financial stability. This isn't a connection central-bank governors often make.