U.K.
Labour's Corbyn Still Fighting the Last (Class) War
Labour's Corbyn misses the point that where you're from is no longer important.
by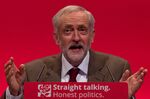 A British anti-capitalism group called Class War attacked an eatery called the Cereal Killer Café on Saturday. The café owners' crime, according to the protesters? `Gentrifying' London's east end. Now, complaining that there's not enough affordable housing in the capital is one thing; but throwing smoke bombs and paint at a small business that's helping to enrich an area that wasn't safe to walk around 20 years ago?