India
India's Rajan Cuts Deep, But Not Deep Enough
Only more powerful easing will translate to the real economy.
by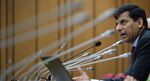 If he didn't quite manage the shock and awe generated by his counterparts in Japan and Europe, Indian central banker Raghuram Rajan nevertheless surprised forecasters today when he slashed the benchmark interest rate by 50 basis points to 6.75 percent, a four-year low. Most analysts had predicted the hawkish Rajan would lower rates by half as much, if at all. Weakening growth numbers appear to have forced his hand: GDP grew by 7 percent between April and June, down from 7.5 percent the previous quarter. With consumer prices in check -- inflation stood at 3.6 percent in August, well below the 6 percent target Rajan's set for January 2016 -- a generous cut wasn't terribly risky.
Neither is it likely to be enough, however. In a statement accompanying his decision, Rajan acknowledged that previous cuts this year hadn't provided as much stimulus as he'd hoped. Before today, the RBI had reduced rates three times since January for a cumulative 75 basis points. Yet the median rate by which banks lowered their lending rates over that period was just 30 basis points. In other words, they didn't transmit even half the value of the cuts to investors and consumers. Rajan vowed to work with the government "to ensure that impediments to banks passing on" the full 125 basis points of easing this year would now be removed.
That'll be easier said than done. India's commercial banking system is dominated by state-owned banks, which are burdened by a vast number of non-performing assets. An estimated 11 percent of banks' outstanding loan portfolios are non-performing, on par with Portugal and Spain. Reluctant to lend more, banks are only too happy to keep interest rates artificially high.
The government has taken steps to recapitalize state banks, but on far too small a scale to make a difference. The only other option would be to divest the state's equity in public-sector banks. While the government has shown itself willing to pare down equity in other state-owned companies from time to time in order to raise funds, though, outright privatization remains politically unfeasible.
Deeper structural factors are also choking up the system. India lacks a thriving bond market and the kind of functional bond-currency-derivative nexus that would allow market players to hedge risks properly. Currently, the bond market is completely dominated by government-issued securities. In time, once the government gets a better grip on the fiscal deficit, there may be scope to deepen and liberalize the bond market and develop a true system to hedge risks. Those reforms are hardly imminent, though.
The only thing that might make a difference in this environment are even steeper rate cuts by the RBI. Lower rates would ease the burden of non-performing assets, thus relieving some pressure on banks. By juicing growth, they would also help alleviate the government's fiscal pressures. Perhaps Rajan can use his powers of moral suasion and considerable charm to force banks to ease up on lending now. More likely, he'll have to get the knife out again if he wants to have an impact on the real economy.
This column does not necessarily reflect the opinion of the editorial board or Bloomberg LP and its owners.