2016 Elections
Does Fiorina's HP Tenure Really Matter?
Success or failure in business doesn't tell us much about governing.
by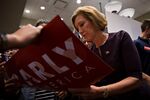 You can tell how well Carly Fiorina is doing by the sudden interest in attacking her. Conservative and liberal columnists are engaged in a raging battle over whether Fiorina, a Republican presidential candidate, slightly misdescribed the contents of a video about Planned Parenthood's late-term abortions, or brazenly made up horrid scenes in order to score points during the last debate. And, of course, there is a brisk columnist business in debating her tenure at Hewlett-Packard: Was she a blithe failure or a beleaguered CEO doing the best she could with what she had?