Economics
Another Year Near Zero?
Markets are acting as though interest rates will stay low for a while.
by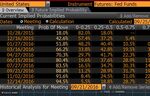 For almost seven years, the world has been in a monetary state of emergency, with the largest developed nations' central banks holding interest rates near zero in an effort to jolt economies out of the doldrums. Increasingly, markets are acting as though this bizarre situation will last a while longer -- and that's a troubling sign.