Editorial Board
Colombia's Chance at Peace
Ending Latin America's longest-running insurgency won't be cheap.
by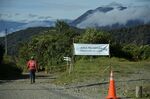 An agreement reached last Wednesday has the potential to end the longest civil war in Latin America. Yet a lasting settlement in Colombia will depend on economic support that President Juan Manuel Santos will struggle to muster -- a pressing reality that Colombia's partners in peace can't afford to ignore.
After three years of off-and-on talks in Havana, the Colombian government and the rebel group known as Farc resolved the thorniest issue in negotiations: "transitional justice," or how to hold to account those responsible for the worst human-rights crimes in the conflict. The two sides agreed to sign a final peace deal by March 23, with Farc to begin disarming 60 days after that.
Peace is its own reward, of course, especially after a half-century struggle that has killed more than 220,000 and displaced millions. At the same time, peace has real costs -- and it won't last unless Colombia finds a way to pay them.
There is a cost to disarming, demobilizing and reintegrating rebels, paramilitaries and soldiers. (Digging up the land mines sown across more than half of Colombia's territory will cost $200 million alone.) The peace plan also calls for redistributing land to the rural population, and restoring or finding homes for those who have been displaced.
These new burdens will hit Colombia as it copes with the plunge in oil prices, the prospect of a rise in U.S. interest rates, and slackening demand from China. Its economy is still growing, but so is its deficit, and the government has just introduced an austerity budget. Santos can't afford cuts that might lead to social unrest: Not all Colombians, countless numbers of whom have lost family members in the fighting, back the peace deal.
To pay for peace, Santos will have to accelerate the pace of economic reforms, beginning with his effort to raise government revenues. Colombia's tax take amounts to 20 percent of its GDP, low by regional and global standards. It could recoup as much as 4 percent of its GDP a year just by cracking down on tax evasion.
Colombia's allies also have a strong interest in making a peace agreement stick. Over the last two decades, the U.S. has given Colombia nearly $10 billion in aid to battle a narco-insurgency that came to control roughly half the country's cocaine trade. The European Union has also helped, as have European nations such as Norway, which co-sponsored peace talks.
With peace so close at hand, the U.S. and EU need to stay involved, not cut back their assistance. Helping to heal Colombia's half-century-old wound be one of the most hopeful developments in the hemisphere in the last decade -- and a sign to the world that even the bloodiest, most intractable disputes can be brought to resolution.