view
Pope Francis' Favorite American Woman
Speaking to Congress, Francis all-but canonized Dorothy Day.
by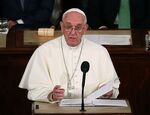 Martha Hennessy, granddaughter of Dorothy Day -- who co-founded the Catholic Worker movement with Peter Maurin in the early 1930s -- looked up as she read the address Pope Francis delivered to Congress earlier in the day. 
"This is astounding."
I was sitting with Hennessy in a small office at Maryhouse, a communal home in New York City's East Village where Day died in 1980. Stacks of the Catholic Worker newspaper, still sold for a penny, filled the room. Hennessy, who has been living part-time at the house for five years, gave me the most recent issue to read before she sat down with Francis' address for the first time.
For decades, Maryhouse and other Catholic Worker houses of hospitality have been taking in the homeless, hungry and hurting. On Thursday, I appeared there unannounced to ask what Hennessy thought of Francis holding up her grandmother as an American role model, alongside Abraham Lincoln, Martin Luther King, Jr. and Thomas Merton. "Her social activism," said Francis, "her passion for justice and for the cause of the oppressed, were inspired by the Gospel, her faith and the example of the saints."
Day is currently under consideration for canonization by the Vatican, but in life, her brand of Catholicism -- not only living in voluntary poverty in community with the poor, but also supporting workers' rights, opposing war and resisting injustice through civil disobedience -- didn't always sit well with the church hierarchy. 
In 1949, when the New York archdiocese called in seminarians to dig graves when workers went out on what Archbishop Francis Cardinal Spellman described as a "Communist-inspired" strike at a Catholic cemetery, Day supported the strikers. She was even arrested for leafleting in front of Spellman's residence. (It was far from her only arrest.) Two years later, a church official told her to remove the word "Catholic" from her newspaper's title. She resisted. He relented.
Day considered herself deeply obedient to Catholic teachings and respected church authorities. But when she felt the two were in conflict, she followed her conscience. She said of Spellman: "He is our spiritual leader -- of all of us who live here in New York. But he is not our ruler. He is not someone whose every word all Catholics must heed, whose every deed we must copy." Why did she remain a Catholic? "Though she is a harlot at times," Day wrote of the church, "she is our Mother."
While Spellman's successors have embraced Day's canonization cause, she continues to be a target of attack for some conservatives. Indeed, it would have been almost impossible to imagine either of the two previous popes singling out a Jazz Age bohemian, who had an abortion and a child out-of-wedlock before converting to Catholicism, in front of the U.S. Congress.
Francis' public exalting of Day highlighted his commitment to re-orienting the church around the works of mercy: feeding the hungry, clothing the naked, comforting the afflicted and visiting the incarcerated.
It's a message that affirms the Catholic Worker's understanding of the Gospel. Earlier on Thursday, I had spoken with a former resident of Maryhouse, Frida Berrigan, daughter of the radical activist and excommunicated priest, Philip Berrigan, who had written for the Catholic Worker. She applauded Francis for taking "the message of the Gospel out of the sacristy and into the streets." What would her father have thought of the pope's speech? "He would have been clapping in the front row."
Hennessy finished reading. As we began talking, she apologized for jumbling any thoughts: She was on day two of a fast, as an expression of "solidarity" with Francis. (He used that word four times in his address to Congress.)
And yet, she spoke with perfect clarity: "He's the pope after her heart. He's the pope we've waiting for. He's speaking the language of Dorothy Day and Peter Maurin" -- about poverty and justice, war and peace, service and sacrifice. "He is taking the Sermon on the Mount literally, as Dorothy did."
Was Hennessy surprised by Day's inclusion in the speech? No. "The church has great capacity to reform and heal itself." Hennessy told me that she is "quite hopeful" about the future of the church and believes that Day's influence on it has only just begun: "She was ahead of her time." 
Day's canonization process may take years. But Francis all-but made official what many Catholics have long believed: Day was a saint. It was a title she rejected; "I don't want to be dismissed that easily," she said. But had Day known the anointment might come from Francis, she may well have thought differently.
To contact the author of this story:
Francis Barry at fbarry5@bloomberg.net
To contact the editor responsible for this story:
Zara Kessler at zkessler@bloomberg.net
Before it's here, it's on the Bloomberg Terminal.
LEARN MORE