Companies
The Big Lesson From the VW Debacle Is...
Companies should try harder to behave -- or to cover up their misdeeds.
by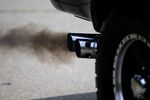 Careful readers of business news have learned this week that automakers have been cheating on emissions tests for as long as there have been emissions tests. They also have learned that, while Volkswagen's cheating on tests for emissions of nitrogen oxides "added the equivalent of as many as 19 million chemical-spewing cars to American roads," this amounts to less than 0.1 percent of total U.S. NOx emissions (let's not even get started on Icelandic volcano eruptions). And they are beginning to learn that every manufacturer of diesel cars may face big problems as regulators start to look at what their vehicles spew out in normal driving conditions as opposed to during a standard emissions test.