Europe
Is Something Rotten in the State of Corporate Germany?
The manner of Martin Winterkorn's resignation calls into question German corporate governance practices.
by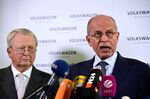 As it accepted the resignation of Chief Executive Martin Winterkorn on Wednesday, the executive committee of Volkswagen's supervisory board praised his "towering contributions" to the company that stands to lose much of its $37 billion cash stash making amends for major fraud committed on Winterkorn's watch. Such graciousness is a German tradition, and it raises the question whether there's something fundamentally wrong with the country's corporate establishment.