Foreign Policy
Dispatch From Refugee Crisis: Desperate, But Not Defeated
Arriving in Europe, they are seen as a problem. Look again. They are pioneers.
by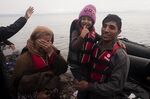 "They lose everything when their boats overturn -- everything from their cell phones to their babies," the Belgian nurse told me. He said it in a matter-of-fact tone that I recognized from my days giving tours of the cleaned-up Ground Zero site. It is not the sound of people who don't care; it is the sound of people who have been living in the middle of horror for so long that they cannot keep stopping to cry.
I cried when I got on the boat to leave the island of Lesbos, walking past the tent city that has sprung up at the docks. I cried all over again when my mother called to ask how my trip to Greece had been. But the refugees weren't crying. So many of them looked happy, sitting under makeshift tents put together out of reams of netting and whatever cloth they could find. Some smiled as they walked down the road with a backpack or a garbage bag that contained everything they had in the world. Others smiled as they walked down the road without one. Children laughed, men waved, mothers grinned shyly.
 "They're safe now," said one of the doctors at Kara Tepe, the temporary camp where refugees, largely from Syria, wait for passage to the European mainland. "They're happy because they're safe."
Getting to safety is very dangerous, more dangerous than you'd think it should be, given that migrants who get as far as the Turkish coast can see the Greek island of Lesbos quite clearly across the water. The refugees make this short journey in all sorts of vessels, mostly black rubber boats that easily overturn. The Greek coast guard constantly patrols the ocean, looking for boats in danger or people in the water. Sometimes the patrols arrive too late.
QuickTake Europe's Refugee Crisis
"Very low cost, no navigation lights, black boats travelling at night," said Antonios Sofiadelis of the Hellenic Coast Guard. "All the boats are overcrowded -- 40, instead of the 10 it's suitable for." He estimates that 4,000 to 5,000 people a day are making landfall on the island, having paid smugglers  1,000 to 1,500 euros per head. (This figure seemed insane to me -- the boats can't cost more than a few thousand euro -- but other people confirmed the going rate.)
The day before I was there had brought two bad accidents. In one, an 8-year-old girl had died, 11 other refugees were missing. The other boat had held over 48 people; by Monday afternoon, only 22 had been found. Days like this are not rare. An estimated 2,600 refugees have drowned in the Mediterranean so far this year.
"It's the biggest humanitarian crisis ever to happen in Greece," said Sofiadelis. This is a terrifying statement from a country that resettled 1.3 million people in a postwar population swap with Turkey. His staff was working double shifts, trying to cope. But he said that since the beginning of the year, over 160,000 people have crossed that narrow strip of sea between Greece and Turkey.  That's just the ones who made it to Lesbos; there are also the refugees going to other islands, or to Italy.  They take incredible risks to get away from the Taliban, or Syria's civil war, or Iraq's battle with ISIS. While they are certainly safer in Europe, their struggle does not end when they come ashore.
I stood in the refugee camp at Moria for several hours, waiting for someone from the police to have time to speak to me. That never happened.  They had too much to do keeping vast numbers of people moving from line to line: lines for registration, for boat passes, for health care. As I stood there, waiting, a fierce wind began to blow up, tearing down tents and pelting everyone's eyes with dust. The first big rain of the season was on the way from Athens, with many more to follow, as Greece heads into its wet winter season.
The weather is about to become a big problem, not just because it will make the ocean passage more dangerous, but because of what it will do to the people on land. At the Kara Tepe camp, people had shelters built by the UN, but at Moria and the port of Mytilene many were still living in tents, or with even less shelter. While I stood waiting, the police ran to put out a cooking fire that threatened to spread -- according to one of the locals, there had been a bad fire just a couple of weeks ago, and this wind was much worse.  One of the other policemen laughingly called out, "Hey, the food's not done yet!"
It's not that they don't feel bad for the migrants. They're just overwhelmed. And that's the story of what's happening in Europe right now. Everyone feels bad for the refugees. But in the face of the biggest European migration since World War II, no one wants to fling open the borders and accept these people in the numbers that they have arrived -- an estimated half million since the beginning of the year.  
The refugees don't want to stay in Greece or Italy, where unemployment is high and the locals are anxious to keep them moving. But it's getting harder and harder to go elsewhere. Germany, Austria, Hungary and Slovenia have all imposed temporary border controls, and so the people who have survived the perilous journey across the sea flow east and north looking for some entry point into the rich countries of Europe's north. They are no longer enduring civil wars, but the price of their escape is homelessness.
In the face of this suffering, crying is painfully inadequate. So are all the other things we normally do in disasters: send a little money to a charity, solemnly assure each other that the government really ought to do something, shrug our shoulders at how many terrible things happen in the world.
But for Europeans, these people aren't comfortably far away, where they can be easily forgotten after a few minutes of hand-wringing. The crisis has arrived at Europe's doorstep; the victims are asking to come in and get out of the rain. To be given a shot at a safe home, a job that pays the bills, a school with no militia gunfire.
When I asked the NGO doctor what she needed, she didn't say "money" or "supplies." What she needed was people: doctors and nurses, of course, but also volunteers who could do something as simple as handing out powder for all the babies who survived those terrible boats, and now need to be fed and diapered. Most of all, the doctor wanted the news media to tell the stories of the people she saw -- to talk of them not as an undifferentiated mass or as a problem to be dealt with like an infestation.
"A family here lost little kids -- that wasn't reported anywhere," she said earnestly. "All these people who were sunk, they're not numerals. They have families."
On the ferry leaving for the Greek mainland, I met a 20-year-old Afghan woman who had spent a month getting to Lesbos from Kabul with her parents and sister. She and her father were delightedly taking pictures of each other, standing at the rail of the boat as it pulled out to sea. "I am happy," she said, "now that I am here."
These hundreds of thousands survived the Taliban, the Islamic State, the Syrian civil war. They survived a perilous crossing, clinging to their children in a flimsy raft. They have finally arrived on safe shores.
Where will these refugees go? America is willing to eventually take 100,000 Syrians a year.
Where will these refugees go? Europe is squabbling over the distribution of 120,000 people over the next two years.
Where will these refugees go? Mostly, no one knows. There is no plan for most of the estimated 4 million who have fled Syria so far, or for the thousands who are still coming every day.
Where will these refugees go? The few I was able to talk to had no answer, but they were not afraid. They have had enough to fear. Now they have hope.
Europe and the U.S. have seen these people as a problem to be solved, or at best an obligation to be fulfilled. Take another look: These people are pioneers. Future citizens, teachers, engineers, P.T.A. dads, entrepreneurs, valedictorians, doctors. They are following in the footsteps of the immigrants who built the United States: the ones who chose to strike out for unknown territory, heading west with not much more than a knapsack.
The modern-day pioneers striving toward Europe shouldn't have to beg for a chance to build productive lives in Germany or Britain or the U.S. We should be going out to invite them in. We should have started much sooner.
To contact the editor responsible for this story:
Philip Gray at philipgray@bloomberg.net
Before it's here, it's on the Bloomberg Terminal.
LEARN MORE