U.K.
Labour's Lean to Left Spells Election Disaster
Unfortunately for Jeremy Corbyn, voters don't like more socialist economics.
by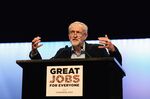 Even before Jeremy Corbyn's landslide victory in the U.K. Labour Party leadership contest earlier this month, his potential to reach beyond Labour's base to parts of the electorate that didn't vote Labour in 2015 had been widely discussed. Italian Prime Minister Matteo Renzi, with one eye on the radical wing of his own party, this week dismissed Corbyn as proof of Labour's "delight in losing." As one of the most left-wing leaders in Labour's history, Corbyn represents the party's most decisive move yet away from the center ground championed by Tony Blair and New Labour from the mid-1990s. Will it succeed?